Swine flu cases reported from Guwahati
Guwahati, Sun, 15 Mar 2015
NI Wire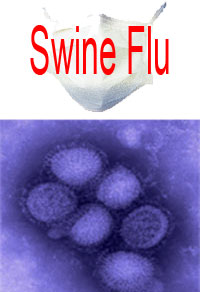 Swine flu cases are also reported from the Guwahati, Assam Chief Minister Tarun Gogoi directed the Health and Family Welfare department to prevent the spreading of the virus.
According to he Health Ministry statement on March 13, H1N1's toll rises to 1,674 and the number of persons affected by the virus exceeds 29,000 in the country.
Gujarat sate is most affected with the Swine flu where 375 people have died and the number of people was 6,032.
In the Delhi, 11 people have died due to the Swine flu and the number of cases of Swine flu rose to 3,914.
Swine flu is respiratory disease which is caused by the flu virus.
Following are the symptoms of the Swine flu:
Fever
Cough
Sore throat
Runny or stuffy nose
Muscle or body aches
Headaches
Fatigue (tiredness)
Some people is also reported in some persons
Read more at What is Swine Flu?