MNREGA- living example of Congress failure: Modi
New Delhi, Fri, 27 Feb 2015
NI Wire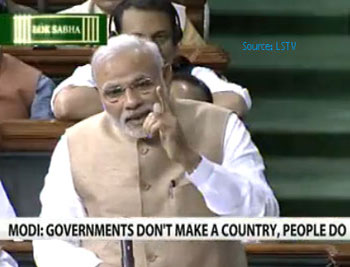 While speaking in the Parliament today, PM Prime Minister Modi said that the MNREGA is the living example of Congress failure and this program won't be discontinued.
"My political understanding says never end MNREGA. I can't make this mistake because MNREGA is an epitome of your (Congress) failure. After so many years of being in power, all you were able to deliver is for a poor man to dig ditches a few days a month," Prime Minister Modi said in Parliament today.
He also said "The MNREGA will stay, with all its pomp. However, I will see to it that all the schemes that can be added to genuinely help the poor will be added to the MNREGA".
The Mahatma Gandhi National Rural Employment Guarantee Act (hereafter MGNREGA) is a law in India through which employment of 15 days is given to the adults who apply for the employment in the rural areas.
Under the MNREGA program if no work is given then an unemployment allowance is paid.