Every 3 seconds, 'Make in India' Facebook page adds one 'like'
New Delhi, Sun, 04 Jan 2015
NI Wire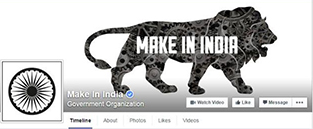 The much hyped campaign of Prime Minister Narendra Modi commonly known as 'Make in India' has achieved a glorious success as it has become milestone on the social networking platform. In a major breakthrough, the campaign has achieved the milestone as to add a new member every three seconds on its Facebook page.
Prime Minister Narendra Modi's 'Make in India campaign was aimed at changing the mindset of the people to tap their entrepreneurial potential. The campaign has become successful and the reason is that there is effective co-ordination between the Centre and state governments.
According to official sources, the initiative has already touched over 2.1 billion global impressions on social media and reached an overall fan base of over 3 million on its Facebook page.
It further said that the Make in India Facebook page adds a new member every 3 seconds, a feat that has not been achieved by any other department of the government and a very few in the private sector.
It has become the fastest-growing government initiative ever on digital media, leaving behind every other government departments like the Ministry of External Affairs, the Home Ministry or the Ministry of Information & Broadcasting, the statement added.