Will not allow Kejriwal to carry on his politics of mud-sliding: BJP
New Delhi, Sun, 18 Jan 2015
NI Wire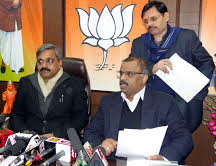 Election Commission of India after examining the complaints filed by Delhi BJP against Aam Aadmi Party National Convener Shri Arvind Kejriwal has prima facie found the complaints sustainable. The Election Commission has today issued notice to Shri Kejriwal to appear and file his reply on.
Delhi BJP President Shri Satish Upadhyay has said that truth has prevailed and taking cognizance of his complaint Election Commission has found that the allegations related to my business are malafide and thus the notice issued.
Secondly in the matter of the allegations on the BJP instigating communal tension in various parts of the city also the Election Commission has found our complaint sustainable and hence asked Shri Kejriwal to give proof as to what evidence he has against BJP in the matter.
Shri Upadhyay has said that we will ensure that Shri Arvind Kejriwal gets an ultimate lesson that the politics of mudslinging will not help him in politics. On one hand we will challenge him in court and on the other BJP will defeat him in the people court too.