PM Mod to start BJP's Pool Campaign in Delhi
New Delhi, Sat, 10 Jan 2015
NI Wire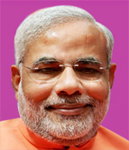 PM Modi is today starting off the Bharatiya Janata Party's campaign for the upcoming Delhi assembly pools in New Delhi, Today.
BJP is organizing the mega rally at the Ramlila Ground in New Delhi and PM Modi is going to address the rally. Top leaders including the chief ministers of Haryana, Jharkhand and Maharashtra are also attending the rally.
Prime Minister Narendra Modi will be the face for the this election campaign. The BJP feels that this rally will help to achieve good results in the election.
Bharatiya Janata Party has made the arrangement for around 60,000 people at Ramlila Ground in New Delhi.
BJP president Amit Shah, national general (organisation) Ram Lal, Union ministers Arun Jaitely, Venkaiah Naidu and Piyush Goyal will also be present in today's rally.
Bharatiya Janata Party was out of power in Delhi for the last 16 years.
Last year in the 2013 Legislative Assembly elections, BJP won 31 seats out of the 70 seats.