Dr Naresh Trehan: Treatment in India safer and more effective
New Delhi, Sun, 07 Sep 2014
NI Wire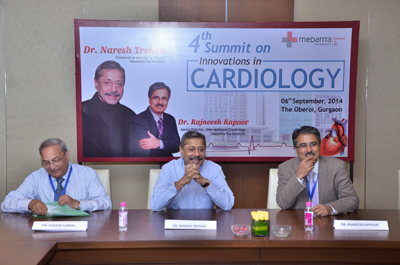 Gurgaon, September 6th, 2014: While speaking at The Innovations in Cardiology (IIC) Summit in New Delhi, Dr Naresh Trehan said that the Treatment in India safer and more effective. Renowned experts including Dr Naresh Trehan, Dr Rajneesh Kapoor, Dr KK Aggarwal Dr Miroslaw Ferenc and Dr Yogesh Varma discussed the latest trends and innovations in the treatment of heart disease in the Summit.
Reinforcing its commitment to revolutionizing the approach towards the treatment of heart disease, Medanta Medicity, India's leading multi-specialty hospital and its Senior Director of Interventional Cardiology, Dr Rajneesh Kapoor organized the fourth Innovations in Cardiology Summit at the Oberoi Hotel in Gurgaon today. Over 500 leading cardiologists and physicians attended the summit from across the globe. The key discussions at the summit included the latest techniques and procedures in Interventional Cardiology including echocardiography, electrophysiology and clinical cardiology.
Started in 2011, the Innovations in Cardiology Summit is one of the leading platform's that India has to offer for doctors and key industry influencers to come together and discuss new developments in Interventional Cardiology. The educational content, renowned national and international faculty participation and academic integration of regional thought leaders was one of the key highlights of the meeting this year.
In his inaugural address, Dr Naresh Trehan, Chairman and Managing Director of Medanta Medicity, Gurgaon said, "In the past decade, the Indian healthcare sector has witnessed a complete transformation. We are now a hub of technological innovations, advanced research projects and world-class medical services. The Innovations in Cardiology Summit is an opportunity for experts from all over the world to come together, share their experiences; and overall make treatment in India safer, more effective and at par with our western counterparts".
Adding to this, Dr Rajneesh Kapoor, Organizing Secretary of the IIC Summit 2014 and Senior Director, Interventional Cardiology, Medanta Medicity said, "In today's day and age, an increasing number of people are suffering from heart disease due to common lifestyle factors such as stress, unhealthy eating habits and the dependence on substances like alcohol and cigarettes. Given this scenario, there exists an urgent need not only raise awareness about preventive factors, but also to find solutions to revolutionize treatment. Towards this endeavor, we came up with the concept of the Innovations in Cardiology Summit in 2011, to provide key influencers a platform to discuss, debate and share the major advancements and issues in the field of cardiac care".
Some of the new developments in the field of Cardiology in the recent past have included the development of low cost Indian made stents, CT imaging for Aortic Aneurysm and the availability of newer Cardiac Biomarkers.
The IIC conference also featured a special session on medico-legal aspects conducted by the President of Heart Care Foundation of India and the Senior National Vice President of the Indian Medical Association Dr KK Aggarwal. During his session he spoke about how cases of medical malpractice in Cardiology have been increasing in India due to the lack of proper communication. While guiding doctors on ways to safeguard themselves he said, "Whatever you advise your patients, execute it, document it and preserve it for transparency and honest conduct is key".
Giving an International perspective, Dr Miroslaw Ferenc, Senior Interventional Cardiologist and the Director of Intensive Care Unit at the University Heart Centre Bad Krozingen, Germany said, " It is an extremely proud moment for me to be given an opportunity to present my paper at the Innovations in Cardiology Summit 2014. India as a country has such great potential to become the next leader in innovative medicine and I am happy that Dr Rajneesh Kapoor and his team have taken a step in this direction. The IIC Summit is a great platform that allows both National and International doctors to share best practices in the field of cardiac treatment. I look forward to many more such conferences in the future".
Also speaking on the occasion, Dr Yogesh Varma, Head of Cardiology, GMC, Bhopal said, "The Innovations in Cardiology Summit is a great opportunity for doctors who belong to smaller cities in India to interact with leading National and International experts and present their views on new developments in the field. Cardiac treatment in India has evolved such a great deal over the years and has great potential in the future. I look forward to getting many more such collaborative opportunities in the future".
Other leading doctors who conducted sessions at the conference included renowned names such as Dr K K Aggarwal, Dr Khalilullah, Dr T S Kler, Dr R R Mantri, Dr V K Chopra, Dr B Kalra and Dr Rajiv Parakh.