IPPCI honours Public Relation Officers with Media Ratan Award
New Delhi, Sun, 07 Sep 2014
NI Wire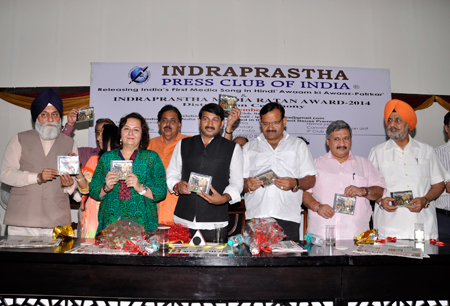 New Delhi, 6 September 2014: Indraprastha Press Club of India had organised Indraprastha Media Ratan Awards Ceremony 2014 today at the Constitution Club, New Delhi. In the ceremony more than 35 Public Relation Officers from Government and private sector were honoured on the occasion. The program was graced with the honourable presence of Cabinet Minister Dr. Harshvardhan, Mr. Yogender Chandolia Mayors North Delhi, Ms. Meenakshi Mayors East Delhi and Mr. Khishi Ram Mayor South Delhi. The first Hindi media song 'Awam ki Aawaz Patrakaar' was released on the occasion by Member of Loksabha and Bhojpuri singer
Samrat Shri Manoj Tiwari. On the occasion Shri Manoj Tiwari assai that he will sing the media song in Bhojpuri. Singing the song on the contributions of media will be matter of pride for him.
On the occasion seminar 'Changing Trends of Public Relations' was organised which was addressed by Mr. K.N. Dhawan Advisor Communications Scope, Mr. M. Rajendran Senior Assistant Editor Hindustan Times, Mr. Javed Akhtar Ex. Assistant Lecturer Allahabad University and Mr. Sanjay Vashistha, Deputy Manager (PR) India Trade Promotion Organization.
The role of Public Relation Officers is very large in media. "Public Relation is a deliberate, planned and sustained effort to establish and maintain mutual understanding between an organization and its public." A public relations officer (PRO), also known as 'Media Specialist,' is the spokesperson of an organization. His or her role is to convey the policies and interests of the organization to the public through various modes of media. The need for a PRO can be found in almost all sectors, including private companies, advertising agencies, financial organizations, government agencies, charities, etc. As a PRO has to be dedicated 24/7 to protect the interest of a organization. A seasoned PRO does not only manage and maintain reputation, but also continuously work towards creating and ameliorating the goodwill of the organization.
Public Relations have always been about people foremost. While ongoing technological developments affect Public Relations as an institution, the industry's key purposes remain the same. PR is still firstly about story, telling but digital advances have changed the way in which they are told, who tells them, the channels used, and the amount of control organizations have over the story.
PR professionals no longer pitch just journalists, bloggers and influential Twitter and LinkedIn users have been added to media lists. Journalist follow 'friend'. Communications or PR pros on Twitter, Linked or Facebook and use social media to look for press releases. However these press releases must contain newsworthy content and ideally contain a short summary when posted. Public Relations professionals have always known how to tell a good story and now this role is focused how to get the most mileage out of the content. Content needs to be adapted to each platform and audience in order to reach the greatest numbers and pull people in effectively. The digital age has led to more re-purposing of content than ever before.
IPPCI has made an effort to honour the PROs who have given their immense contribution to media in the changing times. Indraprastha Media Ratan Awards Ceremony 2014 has been conferred to Umesh Mishra, Joint Director Government of Chhattisgarh, Ranjeet Singh Rana Senior editor Himachal State Information Center, Nilesh Shukla, Dy.Director (Information) Government of Gujarat, Parminder Pal Singh, Media Advisor DSGMC Shiromani Akali Dal Delhi State, Gopender Nath Bhatt, Additional Director Government of Rajasthan, Manoj Kumar Sharma, Public Relation Officer Central Railside Warehouse Company Ltd, Sanjay Vashistha, Deputy Manager (PR) India Trade Promotion Organisation, Yogender Singh Mann, Director(Press & Information) North/East Delhi Municipal Corporation, Manoj Lal, General Manager The National Small Industries Corporation Ltd (NSIC), Sanjay Kumar Sinha, Jt.General Manager (PR) Bharat Sanchar Nigam Ltd (BSNL), Rohit Inder Singh, Sr.Manager (Corp.Com.) Bharat Heavy Electricals Ltd.(BHEL), B.Bhattacharya, Deputy General Manager(CC) National Building Constrution Corporation Ltd.(NBCC), Jagjiwan K. Bakhshi , Advisor (Public Relations) New Delhi Municipal Council, V N Parashar, Public Relation Officer Border Security Force, Rajan Bhagat, PRO/DCP,II Crime Delhi Police, A S Negi, Senior Public Relations Officer Northern Railway, Tanu Sharma, Public relations officer Delhi Cantonment Board Delhi Cantt, Kiran Kumar Govt. of Andhra Pradesh Special Officer Dy. Director Information Deptt., Neha Bhatnagar, Gen. Secy State Information & Public Relations Officers Association, Amit Kumar, Information Officer Directorate of Information & Publicity, Delhi Govt., Chandan Kumar, Information Officer Directorate of Information & Publicity, Delhi Govt., Sanjam Cheema, Consultant/Public Relation Delhi Jal Board, Rakesh Kumar Rao, Chief Public Relation Officer Sashatra Seema Bal, Mukesh Yadav, Director Publicity & Information South Delhi MCD, B C Khanduri , CRPF, Hemender Singh, Public Relation Officer CISF, Naresh Chief Maneger (Corporate Communication) Power Grid, S.K Jha General Manager (Corporate Communication) ONGC, Dr. Rishiraj Bhatti PRO Delhi Transco, Manoj Sharma PRO Delhi fire Service, Sunil Kumar Gupta PRO Tihar Jail, KPS Dubey Manager Corporate Communication THDC, Vijay Singh Khare Sr.Officer (Public Relation) Bharat Cooking Coal Limited Dhanbad, Jharkhand, Seema Kiran Feature Editor Veer Arjun, J.N Maggo Chief of Public Relation NHPC, R.K Singhla Chief of Corporate Affairs&GM SAIL,
Nisha Sharma Editor SCOPE, Ashok Kumar Sharan KHADI, Geeta PRO GB Pant Hospital, Dr. Ashok Sharma Ujjwal Duniya, Jaya Prakash AGM Public Relation.
IPPCI made a pioneering effort by making the first international media song 'Proud to be Journalist' which was released internationally in 2013, the entry for the song was also send to Guinness Book of World records. The Hindi version of the song 'Awam Ki Awaaz, Patrakar' was released on the occasion to highlight the contributions of Indian media. The song is dedicated to the contributions of media community in nation and society building. Media is the fourth pillar of the society and its contribution can be seen in every walk of life. This song is a tribute to the media community by IPPCI. Caller tune of the song can downloaded free for BSNL and MTNL users. The music of the song is composed by music director Mr. Taru Bhalla and the singer of the song are Sankalp Bhalla and Charvi Virmani. It is noteworthy that in 2013 IPPCI honored 35 women journalist with Indraprastha Media Ratan Award highlighting their contribution in the media.
The whole team of IPPCI in the leadership of President Narender Bhadari and with the guidelines from general secretary Anjali Bhatia organised the ceremony beautifully. Members of IPPCI including Naresh Gupta, Shivendra, Santosh Suryavanshi, Kenu Agrawal, Manu Sharma, Suresh Sharma Journalist & Patron IP Club, Nirmal Jain Convener Rajasthan, Manoj Sinha, Satish Sharma, Rajendra Wadhwa, Vikas Napa, Pradeep Jain, Vijyalaxmi, Mamta Chaturvedi, Ahay Mishra, Dhruv, Baleshwar Gupta, Rakesh Singh, Rakesh Shukla, Nasir Khan, Pawan Bhjargav, Amlesh Raju, Priyaranjan, Devender Pawar, Arjun Jain,Pratibha Shukla, Seema Kiran, Sachin Meena, Swati Tyagi etc were present on the occasion.