Motorola Moto G launched via Flipkart in India
New Delhi, Sun, 07 Sep 2014
NI Wire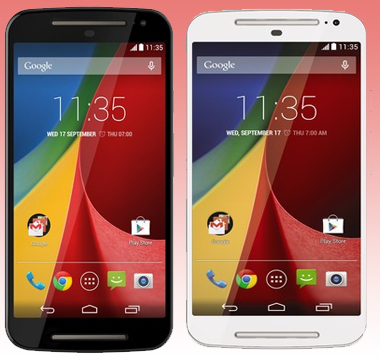 The new smart phone Moto G is already available for sale through the online shopping portal Flipkart, Moto G (2nd Gen) with 16GB cost is Rs. 12,999 including the taxes. The EMI option is also available on the purchase of Moto G (2nd gen) phone from flipkart.com.
The Moto G features Dual SIM (GSM + GSM), 5-inch HD Screen, Android v4.4.4 OS and 8 MP Primary Camera; which seems a good phone for general use.
This phone available in two colors Black, with 16 GB and White, with 16 GB. The features these two colors are the same.
The Moto G (2nd Gen) is an exceptional Phone loaded with features and it comes at very attractive exceptional Price. The is phone (Moto G 2nd Generation) is the successor of the highly admired Moto G model of the smart phones from Motorola.
The Moto G (2nd Gen) is featuring a 5-inch HD screen with HD, 720 x 1280 Pixels Resolution. Phone is powerful and runs on the Quad-Core processor.
The key features of the Moto G (2nd Gen) are:
Available in black and white
Comes with 16 GB Memory
Load operating system is Android v4.4.4 (KitKat)
1 GB RAM
Memory is expandable upto 32GB
It comes with 1.2 Ghz Qualcomm Quad Core Processor, which makes it a powerful mobile phone
8 MP Primary Camera and 2 MP Secondary Camera - Good for taking videos and pictures. You can use this phone for the video calling also
It supports Dual SIM (GSM + GSM)
5-inch HD Screen with 20 x 1280 Pixels Resolution
Overall this is good and stylish phone from Motorola.