iPhone 6 - All You Want to Know
US, Mon, 15 Sep 2014
NI Wire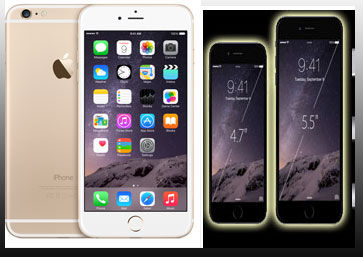 There are still few weeks to go before customers and enthusiasts can finally get a feel of the much anticipated iPhone 6 after its recent launch. At present overwhelming number of orders is posing a few constraints for the supply of the device in general. Obviously this huge response that the device garnered all over the world has is resulted from the really formidable feature set, design and capabilities of the device. For the first time company launched 2 different versions of the same device with the objective of offering a bigger display to combat big-display smartphones, respectively as iPhone 6 and iPhone 6 Plus iPhone 6 is undoubtedly a major leap forward from Apple with many new beneficial aspects for the users and developers.
Bigger, thinner and Better Design
While bigger in screen size and design is one aspect in which iPhone 6 leads ahead of all previous iPhone avatars, it is also the thinnest iPhone till date. It is more power packed with features but less power consuming as well. Most importantly IPhone 6 looks like one continuous form with metal body finish smoothly meeting the Quad HD display. Here are some figures.
The display length of iPhone 6 and iPhone 6 Plus stands respectively at 4.7 inches and 5.5 inches.
Both the versions are extremely thinner with only 6.9mm and 7.1mm of width respectively.
A Far Better Display Quality
iPhone 6 display is just not bigger but better in every aspect. Be it true to life color or be it stunning contrast in any angle, it is arguably the most advanced device in respect of display quality. The desktop class architecture along with other advanced level display efficient tech specs made this phone the brightest one as compared to other smartphones.
Respectively the resolution of iPhone 6 and iPhone 6 plus versions are 1334x750 and 1920x1080.
The display is more power packed with A8 chip.
M8 motion coprocessor is more efficient in gathering inputs from advanced level sensors and barometer.
Camera for More High Quality Image and Video
iPhone 6 will have Focus Pixels for better photographic output. New video features will ensure enhanced video quality. Some features even would let you use the device as security camera.
Focus Pixels will augment an array of things related to image like skin tones, autofocus, facial recognition, macro camera, etc.
With new video features you can take videos with1080p HD at 60 fps and slow-motion at 240 fps.
Time lapse video feature will let you use it sometimes as security camera.
Speedier Wireless with Wider Reach
It is faster than ever wireless speed you can expect from this new iPhone avatar. New iPhone 6 Wi-Fi also covers wider spaces that all earlier devices.
Faster LTE will ensure up to 3 times faster download speed.
Supports more LTE bands than all other phones. This means you will get wider wireless coverage.
Great Security and Mobile Transaction Features
In regard to security the device is complete with the best ever feature - Touch ID. Touch ID will allow you to use your finger print rather than typing password.
Access your device just by tapping your finger.
Complete any transaction like App Store, iTunes and iBooks on your mobile screen with just a finger tip. Instead of password Touch ID sensors will detect your finger print.
With Touch ID on your device you even do not need to carry wallet or bank cards. With the help of Apple Pay and Touch ID feature now your mobile device can work as your bank cards to pay your bills wherever you need. Company is already tying up with many financial institutions and banks.
World's most advanced OS – IOS 8
IOS 8, the major leap in the line of OS releases ever since the beginning of the brand will power iPhone 6. It not only offers an array of new capabilities it simply makes everything better, finer.
IOS 8 is powered by the most developer friendly programming language, Swift.
IOS has far enhanced capabilities for sharing among Apple devices.
You can always be sure to experience the most advanced level apps.
Great Battery Life
In respect of power consumption IPhone 6 is the most efficient one. A fully charged battery can support 50 hours of talk time, 11 hours of video playing or Wi-Fi browsing and 10 hours of LTE or 3G browsing.
Better Storage Options
iPhone 6 is offering 16GB, 64GB and 128GB storage options for the buyers. It is really massive and unparalleled in the market.
Check more at iPhone 6 detailed information section.