iPhone 6 is out in 2 sizes
California, Sun, 14 Sep 2014
NI Wire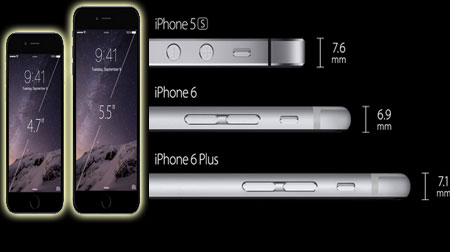 The long awaited and much talked about iPhone 6 is finally out in two screen sizes, 4.7 inch and 5.5 inch, with many exciting features including the 'Apple Pay'.
The iPhone 6 was launched on Tuesday, 9th September 2014 and that ends rumors about the features, photos, specification etc.. Finally we are now aware of the features, specification and the pricing of the iPhone 6 and iPhone 6 plus.
The iPhone 6 and iPhone 6 plus is still not available in India, earlier it was announced that the iPhone 6 will be available in India by 17th October, but the information regarding this is removed from the Apple India website.
For US, both these phones are available for pre-order on several websites and you can place a pre-order for the iPhone 6. The mobile phone network operators are also providing attractive data bundle package.
People are much talking about the worthiness of investing in iPhone 6 and it might be a worthy investment for your hard earned money.
The iPhone 6 is much larger then the previous versions of the iPhone and it is thinner. The specification of iPhone 6 are:
iPhone 6 is just 6.9mm
iPhone 6 features a resolution of 1334 × 750, resulting in 326 pixels per inch (PPI)
iPhone 6 Plus has a Full HD panel with 1920 x 1080 resolution for a PPI of 401
The Samsung, Windows phone and other phones have a similar 1080 pixels display.
The iPhone 6 screen is not scratch-proff, so you will have to buy the screen guard for the iPhone screen. Some model of Samsung and Sony phones are waterproof but still iPhone is not provides such features.
The iPhone 6 comes with the a powerful 64 Bit processor, A8 chip, which is much faster then the previous iPhone 5S. So, the iPhone 6 and iPhone 6 plus is much faster. Furthermore the Apple's A8 chip, is energy efficient and that's the reason it can provide higher battery life. As per Apple's claim the iPhone 6 plus can provide upto 12 hours of web usage regardless of the network used.
According to the Apple's claim iPhone 6 with 4.7 inch screen can provide upto 11 hours of web browsing on the Wi-Fi network So, the iPhone 6 is providing sufficient power to the phone for long run.
Further more Apple's iPhone 6 can provide 50 hours of audio payback. iPhone 6 comes with the pre-loaded iOS 8.
Apple's iPhone 6 comes with the support of 'Apple Pay'.
iPhone 6 camera has f/2.2 aperture and it provides many other features for taking high quality pictures and record quality videos. It is also fitted with the LED flash.
Check more at iPhone 6 detailed information section.