iPhone 6: Specification, Price and Features
California, Wed, 10 Sep 2014
NI Wire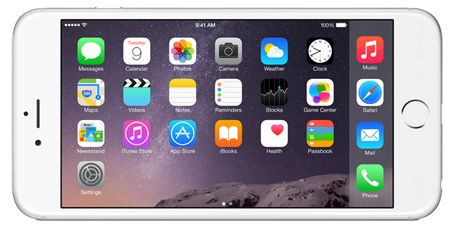 Apple has announced the most awaited iPhone 6 in two screen sizes today in an event today. This event published live on the apple official website. The iPhone 6 comes in two screen sizes 4.7-inch and 5.5-inch. The iPhone with 4.7-inch size is named iPhone 6 and the phone with 5.5-inch sized is named iPhone 6 plus. Both these phones are feature rich and comes with faster processor.
Both these iPhones, the iPhone 6 and iPhone 6 Plus comes with a bigger display. These are all new designed and feature rich. The support for Retina HD display is available with these phones. iPhone 6 comes with A8 processor, new barometer, advanced wireless, improved iSight camera and really amazing HD video recording features. The new iOS 8 is loaded on this phone.
Processor
According to the Apple announcement, iPhone comes with a 64BIT A8 processor which is 50% faster then the A7 processor. Which makes this phone really fast system for running the applications.
Screen Resolution
The screen resolution is also a big improvement. The 5.5 inch iPhone comes with a resolution of 1920 x 1080 pixels, while the resolution of the 4.7-incher iPhone is 1334×750 pixel. Retina HD display comes with these iPhones.
Phone thickness
Both these phones comes with the anodized aluminum backs, the thickness of iPhone 6 is 6.9 mm, while the thickness of iPhone Plus model is 7.1 mm.
Extra features of iPhone 6 Plus
The iPhone 6 Plus comes with extra features and these are:
few extra software features
in landscape mode, the mail or contacts or calendar app will show two panes with expanded content on one side, similar to the iPads
In the landscape mode the keyboard gets dedicated copy-paste buttons
So, these are usability features added to the iPhone 6 Plus.
Camera Features
The iPhone 6 comes with 8MP primary camera, which seems much less then the Android based Samsung or other high end phone. The camera comes with OIS and can can shoot videos at 240fps. In this camera an f/2.2 aperture lens is installed. It has dual-LED flash. Camera supports faster autofocus and it uses a system that is based on the pixels for autofocus. In this phone autofocus works 2x faster then previous phone.
It supports panoramic image upto 43 megapixels in size.
Battery and talk time
iPhone 6 can work on battery upto 14 hours while iPhone 6 Plus can be used for full day of talk time.
Feature of iPhone 6
Bigger resolution screen
Software update
New IOS 8
Faster auto focus
Faster processor
Retina HD display
Apple Pay for making credit/debit card transactions
Pricing of iPhone 6 and iPhone 6 plus
32GB model is not available with iPhone 6 and iPhone 6 Plus.
Price of 4.7 inch iPhone 6
16GB
$199 (on contract)
64GB
$299 (on contract)
128GB
$399 (on contract)
5.5 inch iPhone 6 Plus:
Price of 5.5 inch iPhone 6 Plus
16GB
$299
64GB
$399
128GB
$499
Apple also launched the Apple Watch, which can work with iPhone 5s, iPhone 6 and iPhone 6 Plus.
Availability:
Both these model of the iPhone 6 will be available for sale from September 12 onwards in the US, while in other 100 countries it will be available by the year-end.