iPhone 6 announced : iPhone 6 and iPhone 6 Plus with 4.7 and 5.5-inch displays
California, Wed, 10 Sep 2014
NI Wire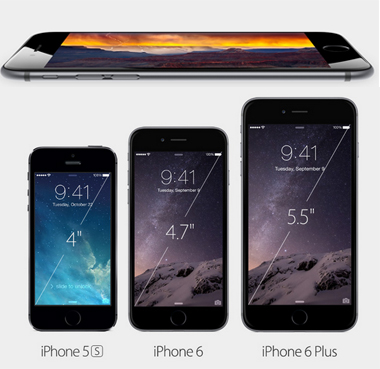 Apple today announced the two versions of the Apple iPhone 6, the iPhone 6 with 4.7 inch screen and iPhone plus with 5.5 inch display.
iPhone 6 has a resolution of 1334 by 750 with 326 pixels per inch. For a more than 720p Retina HD display.
Dual-domain pixels on the photo-aligned IPS display give you a wider angle of view.
The iOS 8 is supported on these devices. And it's available as a free download September 17.
The cover glass is an ion-strengthened thing of beauty. The rounded, seamless surface is created using a precision polishing process.
New software improvements help you take better pictures. Faster autofocus, next-generation local tone mapping, and advanced noise reduction. It's a mouthful that gives you a real eyeful.
Cook said on-stage that the company is "launching the biggest advancement in the history of iPhone."
The iPhone 6 and iPhone 6 plus is the most advanced phone with many new features. Its payment feature is named "Apple Pay" with many exciting feature such as one click pay.
Apple Pay combines seamlessly integrated hardware, software, and services in a way only Apple can.
"Apple Pay is easy, secure, and private." Eddy Cue.
Everything you need for Apple Pay is built into iPhone 6. A groundbreaking NFC antenna. The security of Touch ID. The privacy of the Secure Element. And the convenience of Passbook.
Tim Cook talks about Apple Pay.
"We've placed a lot of energy into creating an entirely new payments solution." Tim Cook.
Credit and debit cards have exposed account numbers, outdated magstripes, and vulnerable security codes.
The entire payment process is based on technology invented more than 50 years ago.