Sony Xperia Z2 vs iPhone 5S: Price, Features and Specification Comparison
New Delhi, Sun, 31 Aug 2014
NI Wire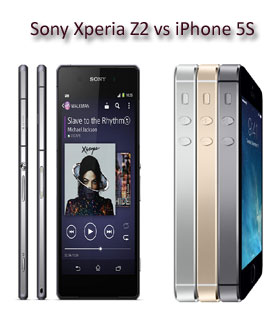 Sony has entered into the high end smart phones with the release of its Xperia Z2 smart phone. Here we are discussing about the features and comparison between Sony Xperia Z2 and iPhone 5S.
Sony Xperia Z2 is premium phone from Sony with 5.2 in (130 mm) diagonal IPS LCD Full HD 1920x1080 px display and 20.7 MP camera with pulsed LED flash. It is perfect phone for the taking photos and videos, but this phone is expensive.
The Sony Xperia Z2 is designed and developed to give hard competitions to the other Android devices in the Market. It is also giving tough competition to the Apple's devices, let's compare the features of these two devices.
Design
Xperia Z2 is luxurious and premium phone whose design is comparable with the iPhone. iPhone is thinner is size and also has less weight as compared to the Xperia Z2. iPhone design is much more aesthetics the the Android based phones. The weight of Xperia Z2 is more than iPhone. Xperia Z2 weighs 163 grams while iPhone 5S weights 112 grams.
The iPhone 5S comes in gold, silver and spray gray color, while Z2 comes in white, black and purple colors. You can choose the phones from these rich set of colors.
Display
Xperia Z2 comes with a screen size of 5.2 inches and its resolution is 1080 x 1920 pixels. It supports 424ppi. While iPhone 5S comes with a screen resolution of 640 x 1136 pixels. It is supporting 326ppi. So, the display of the Z2 looks superior. You may think on this feature while choosing the next phone for you.
Hardware and OS of these phones
iPhone CPU is much faster then the Android based phones. iPhone 5S comes with with a 64-bit processor which is dual core 1.3GHz and has 1GB RAM memory. This processor makes iPhone 5S much more powerful than other Android phones.
The Xperia Z2 comes with Snapdragon 801 processor which is quad core processor at 2.3GHz and 3GB RAM memory. It competes with the performance of iPhone 5S. Performance of both these devices are very good. Xperia Z2 also supports up to 64GB of microSD Card. iPhone still lacks the support for microSD card.
iPhone 5S is loaded with the iOS7 operating system which is different from the previous versions of the OS. While Sony Xperia Z2 runs of the Andorid KitKat 4.4 operating system. The interface of Xperia Z2 is easy and comes with wallpapers/widgets.
Camera
Sony Xperia Z2 comes with 20.7 MP rear camera which can record HDR videos. It can also record videos with 4k resolution(2160p), which makes a good phone for taking images and the videos.
iPhone 5S comes with 8MP rear camera, but it still competes with the Sony Xperia Z2, as it can take great photos and videos.
Battery
Sony Xperia Z2 comes with a battery of 3200 mAh capacity while the iPhone 5S comes with Li-Po 1570 mAh battery. It seems that the battery size of the Sony Xperia Z2 is very high but this phone requires more power to runs its display. iPhone 5S manages its power and it can runs handsets several days.
Price
The iPhone 5S version (16GB) version comes in around US$900. While the price for Z2 is around $800. Sony Xperia Z2 is cheaper than the iPhone 5S.
Sony Xperia Z2 in India is around Rs. 44,000. While the price of iPhone 5S (16GB) in India is around Rs.40000.