Fashion Films by Anita Shroff revealed: LFW W/F 2014
Mumbai, Sun, 24 Aug 2014
NI Wire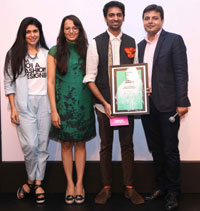 The second edition of 'Fashion Films' was held at Jabong Stage during Lakmé Fashion Week Winter/Festive 2014. Bollywood's leading stylist Anaita Shroff Adajania, Fashion Director, Vogue India, presented short fashion films by designers and film makers.
Amongst the films by designers Amrita Khanna, Gursi Singh, Arunima Majhi, Asa Kazingmei, Megha Garg and Sidharth Sinha, Sreejith Jeevan won the short film competition and walked away with a cash prize of Rupees one lakh. Sreejith's video 'Strung Together', was dedicated to women who make garlands on an everyday basis, which he thought was a metaphor to the Indian way of life.
Anaita stated that fashion in films was fashion communication in its purest form. The film by designers Amrita Khanna and Gursi Singh for their label 'Lovebirds', directed by Jimmy Granger, featured model Preeti Desai wearing seamless garments with a boxy clean edge, which revealed that 'more was not better'.
Arunima Majhi's film directed by Manisha Isa Dass was inspired by the collection'The Venus Flytrap' and how dangerously it can be transformed by metamorphosis.
Asa Kazingmei's short film 'Changvei' showed a tough warrior, torn between being a non-conformist and being traditional in mannerisms. The video focused on someone who was trying to break free from the darkness of life and find himself in the modern world.
Megha Garg through 'A Scooter film' spoke about a warrior soul and her desire to be inspired by what surrounds her in everyday life. The film brought together the city of Kolkata and different sources of surroundings that heavily inspire people to take a step forward. The soft clothes of the collection were in contrast to the film which was more concrete and harsh.
"Munkey See Munkey Doo" in collaboration with Tenzing Dapka was associated with the silence of the streets and illuminating words by Sylvia Plath. The film had nothing to do with the collection but was just a situation created in a lost woman's subconscious mind.
Sidharth Sinha of N andS Gaia presented the film 'Meta Modernism', projecting a naked girl in a forest, who ultimately dressed herself in hand painted garments thus arousing the need to preserve deforestation, butterflies and moths in Meghalaya.