Monica Shah and Karishma Swali Collection: LFW W/F 2014
Mumbai, Sun, 24 Aug 2014
NI Wire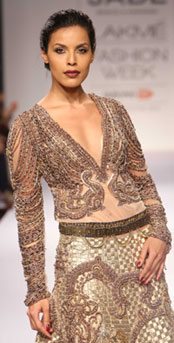 Proud owners of JADE, Monica Shah and Karishma Swali once again showcased a collection that one could be proud of. India's heritage and culture were revealed in their new collection 'In The Temples Of Hoysala' at Lakmé Fashion Week Winter/Festive 3014.
The show opened with internationally renowned contemporary dancer Astaad Deboo who also closed the presentation with his graceful dance movements.
The effort put into the collection by the pair was to draw attention to work of the artisans who, at that time had no idea how magnificently it would be admired.
This dynamic duo rendered the beautiful painstaking hand carvings from around the temples of Hoysala in Karnataka, South India onto fabric to give the collection the grace and beauty that the temples emit. The exquisite ensembles were further enhanced in elegance with the moulded motifs that were discovered around the temples.
The duo further infused colours drawn from Kathakali dancers, which were subtle muted shades like beige and gold that matched with contrasting colours like pinks, oxblood and antique gold to highlight the contours of the temples. The silhouettes were clean cut and gave prominence to the colossal grace.
Some of the highlightings were the opening garment, which featured a rustic silver gold cut out blouse with a beige embellished lehenga, black beaded dupatta and a navy blue anarkali with gold detailed embroidery. Another ensemble that merged into Indo-western bridal wear was the short embroidered jacket with a dual layered lehenga that gave the entire collection a finished royal look.
Monica Shah and Karishma Swali brought to life some of the oldest architectural anomalies in India and translated them into beautiful garments that complemented perfectly the blushing yet combatant modern bride.