LFW WinterFestive: Pranav Mishra and Shyma Shetty Collection
Mumbai, Sun, 24 Aug 2014
NI Wire
null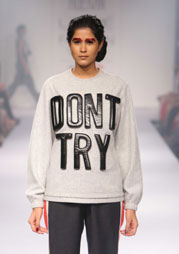 'HUEMN' by Pranav Mishra and Shyma Shetty made another powerful statement through their clothing line at Lakmé Fashion Week Winter/Festive at 2014. The fascinating duo enticed the crowd and created a line that threw light on the battles of a fearless woman. They based it on the delicacy and softness of the ideal woman that subtly yearned for masculine separates.
The constant change was depicted in the form of androgynous styling. This transformed into a dubious contrast with the character of the fabric, the craftsmanship and the colour that balanced it out. Importance was given to both the trouser and skirt that rendered it equivocal. Musings of underground literature were the main highlight was presented in the broken fabric and placement of the eclectic prints. Restructured evergreen silhouettes were fused with the futuristic materials and embellishment detailing that gave it the perfect urbanised demeanour.
Fabrics like vinyl, cotton, silk, hosiery and classic suiting fabrics took centre stage as the chaos was merged to form serene silhouettes like the pants in suit fabrics that were designed to look sporty. A mehendi green pencil skirt with a white stripe and an oversized black jumper was another ensemble that stood out.
Men's wear had plain white shirt with a leafy appliqué in the shape of an 'O'. Also seen was a classic grey suit sporting white striped patches and ankle grazed pants. This made the collection wearable for both the sexes.
'Huemn' by Pranav Mishra and Shyma Shetty set forth a barrier breaking collection of epic clothing that gracefully and effortlessly took the ramp up by a storm. It was not only empowering but also perfect for the fashionista making a statement without a word.
null