Lakme Fashion Week W/F 2014: Dhruv Kapur Collections
New Delhi, Sun, 24 Aug 2014
NI Wire
null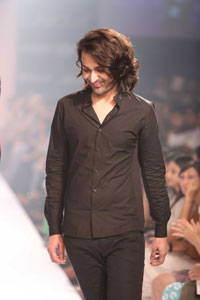 Druv Kapur breathed to life, the fallen warrior through his collection for his label 'DRVV' at Lakmé Fashion Week Winter/Festive 2014. The sheer brilliance of a designer gave a stunning showcase of garments that depicted the after-effects of a battleground where the fighting woman emerged stronger and bolder.
This fierce collection was nothing short of empowering and strong in its interpretation just like the garments. The garments were primal and eclectic which depicted the resurrected soldier. Untamed and unstructured in construction with textures handcrafted from silk, it was minimal.
The colours that so rightly gave essence to the collection were wolf greys and bloody reds as well as warrior black, the marks of a powerful victory. These hues were hinted at in the linings or on the garment as a whole along with fur and button detailing.
The bloodthirsty compilation consisted of modest yet fierce silhouettes like plain collared shirts with dramatic back floor touching drapes paired with pants that were lined with zip detailing. Another focal point of the designs was the fur like dress with the stitched on blood red cape that further went on and draped around the arms. The compilation ranged from simplistic garments like the plain black one-shouldered maxi that emerged as a sari dress at the back to ensembles like the grey side opening suit that had a sari like drape at the rear.
With an unconventional palette and a sense of primal needs in Druv Kapur's collection, the designer produced a wild, ferocious compilation of ground breaking garments that when worn would appear wild and free.
null