Protest against the 'restrictive drug patents' threat to Public Health
New Delhi, Fri, 01 Aug 2014
NI Wire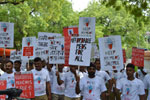 Activists from various organizations like AIDS Healthcare Foundation and DNP+ and students of universities including IGNOU, Jamia Milia Islamia, and Delhi University hold a gathering and march at Jantar Mantar to protest the restrictive drug patents' threat to Public Health.
A special screening of the award-winning film "Fire in The Blood" for the general masses is also organized at Mavlankar Auditorium, followed by a panel discussion titled "Patents will take my Meds Hostage".
Dr. Nochiketa Mohanty, Country Program Manager of AIDS Healthcare Foundation India said, "The effect of the regulations in TRIPS-plus and other agreements will traverse through the whole horizon of medicines and diseases and is not limited to any single condition thus affecting Public Health in totality. The patent requirements will affect the accessibility and affordability of the whole spectrum of medicines and technology.
The decision makers of our country need to stand in solidarity against the pressure to restrict and undermine the production of generic medicines, which is why we have joined hands with stakeholders from across the horizon including NGOs, Universities, Parliamentarians, Department of AIDS Control, UN agencies and other stakeholders on this issue"."The March and the public screening of the movie - Fire in the Blood that will follow are efforts towards achieving this," he added.