Anamika Khanna's 'Luxury 2014' Couture Collection presented by FDCI
Kolkata, Wed, 30 Jul 2014
NI Wire
null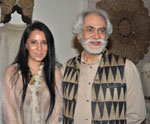 She is an artist with a trained eye for perfection and untamed passion for elegance, and there is no one better than couturier Anamika Khanna, who can play with drapes the way she does, that's why her ode to the globalisation of fashion took a stupendous turn when she showcased her couture collection aptly titled 'Luxury 2014' at her Outram Street Store, Kolkata as part of the FDCI Shree Raj Mahal Jewellers India Couture Week 2014, in association with the Logix Group.
The installation was an aesthetic blend of Anamika's innate love for everything organic, and underplayed as she used the finest craftsmanship to give brides something unexpected yet new-age breaking free from traditional constraints. In a subtle palette, which is now the mainstay of couture the world over, she used the extreme power of vintage to explore new arenas by creating pieces which exude a timeless charm. 'I have always been a lover of vintage pieces, which I have been collecting for many years now, they emit a distinctive glamour which leaves you spellbound, in terms of the craft techniques used," says Anamika.
Anamika Khanna's Luxury 2014, is a contrasting blend of baroque and the brutal. While the fabrics range from silk organza to luxurious muslins, the techniques include everything from English floral patterns to African tribal forms, which are all brought together seamlessly. Though what was breathtaking was the way she has crafted each piece, carefully planning the architecture of the line in a way that every ensemble presented could also be worn as a separate.
Mr. Sunil Sethi, President, Fashion Design Council of India, said, "At FDCI it is our constant endeavour to provide designers with myriad forums to express their creativity. The show in Kolkata is a step in this direction and we are happy to have partnered with Anamika Khanna for the showcase of her couture collection as part of the India Couture Week 2014."
null