Team Deloitte dons the 'Kitchen Wars' champion's hat
Banagalore, Tue, 29 Jul 2014
NI Wire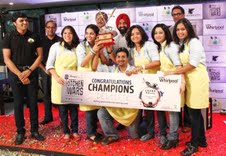 The war has come to an end! Team Deloitte has come out as the champion of Kitchen Wars, the first of its kind corporate culinary contest. It was after rounds of intense competition between 32 corporate biggies, the eight finalists from Deloitte, Infosys, SAP Labs, L and T Finance, Intuit, 3M, Sabre and Mindtree were face-to-face for donning the champion's hat in the grand finale of Kitchen Wars.
The fierce yet healthy competition between the 32 participating teams comprising of six corporate executives, combating for the much coveted 'Kitchen Wars championship title' has been an experience one would never forget. Each team plated up their efforts in the most artistic form, which has not just been a sensory delight for all, but also a lesson on team spirit and time management!
Speaking on the event, Mr. Rajiv Kapur, VP-New Business and Consumer Interface, Whirlpool of India said, "We are extremely thrilled with the outcome of the first season of Kitchen Wars. Designed to delight the users, our Built-in range complimented the culinary skills of the contestants while providing them with an engaging cooking experience. The contest truly turned out to be a fun filled culinary challenge where the corporates got to experiment with a different set of machines, deadlines, mounting pressures, team spirit and then the final presentation. I congratulate the winning team."
The competition was organized over three weekends where these 32 teams bonded over cooking. The winner of the contest will get an all expense paid trip of 3 nights and 4 days to Bangkok which will include a workshop / demo on French Cuisine or Pastry/ Thai Cuisine/ Food and Wine pairing.