Corporation is committed to provide education to every Child: Mayor
New Delhi, Wed, 23 Jul 2014
NI Wire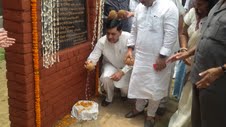 Former Delhi BJP, Chairman, Sh. Vijender Gupta laid foundation stone of two Municipal School Buildings at Razapur, Sector-09, Rohini and Naharpur Village under Rohini Zone, in presence of North Delhi Mayor, Sh. Yogender Chandolia; Former MLA, Sh. Jaya Bhagwan Aggarwal; Standing Committee, Chairman, Sh. Mohan Prasad Bhardwaj; Education Committee, Chairman, Smt. Usha Mehta and a large number of people were also present. The function was presided over by Dr. Neelam Goel, the area councilor and Chairman, Law & Gereral Purposes Committee.
On the occasion Former Delhi BJP, Chairman, Vijender Gupta said that since BJP came in to power in MCD in 2007 the main thrust was to provide better infrastructure, so that student in MCD schools get a better environment for study and that should be not less than any private school. The teachers in MCD schools are very competitive.
Mayor, Sh. Yogender Chandolia informed that all the Councillor of North Delhi Municipal Corporation are putting best of their efforts to provide better amenities to the citizens of Delhi. Mayor further said that education is the right of every child and the corporation is committed to provide better infrastructure to them. Better environment can only be achieved if better infrastructure is in place.
Standing Committee, Chairman, Sh. Mohan Prasad Bhardwaj said that the standing committee ensures that the school children are provided with what is committed to them in time. Hence the department time and again directed to ensure the delivery of services in time like, textbooks, uniforms, bag, shoes, jersey etc to the students.
Area Councillor and Chairman, Law & Gerneral Purposes Committee, Dr. Neelam Goel informed that the newly constructed Municipal School Building at Razapur, sector 09, Rohini would be two storey building with a budget of Rs. 163.29 lakh. The school buildings will have 06 class rooms and 4 toilet blocks; 2 for boys and 2 for girls separately at each floor.