Eaton Releases its First Sustainability Report for India
New Delhi, Wed, 02 Jul 2014
NI Wire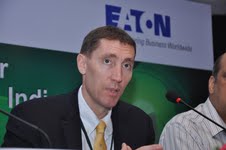 Power management company Eaton today announced the release of its first India Sustainability Report in New Delhi. The report was launched as part of an industry symposium 'Business Leadership for Energy Sustainability in India' hosted by The Energy and Resources Institute (TERI). Titled 'Powering Sustainable Growth in India 2013', the report covers the operations owned and managed by Eaton in India for the year 2013 and supplements Eaton's global sustainability report, which is published as part of the organization's corporate annual report. Eaton in India is a member of TERI Business Council for Sustainable Development (BCSD), a forum through which TERI engages with the corporate sector on issues related to sustainable development.
Speaking at the launch event, Curt Hutchins, President – Asia Pacific, Eaton said' "Global megatrends, which are also highly relevant in India, such as rising energy costs, climate change and urbanization have all resulted in Eaton increasingly positioning itself as a global leader in providing sustainable power management solutions. Today, businesses around the world face ever-daunting, ever-evolving energy challenges – with rising costs and mounting interest in sustainability. We are all a part of the solution in overcoming today's energy issues by becoming more energy efficient and energy aware. Energy efficiency is a tangible, achievable goal that virtually all organizations and businesses can attain."
In a message sent on this occasion, Dr. R K Pachauri, Director General of TERI said, "Following your global practice, undertaking sustainability reporting by Eaton in India is a welcome initiative. Sustainability reporting takes an organization through a process of creating vital information and opportunities for optimized use of natural resources in its own operations, its supply chain and in the life cycle of the products it markets. We are happy that Eaton in India has moved in this direction with earnestness. I wish the company's sustainability practices will soon mature to reach Eaton's global standards".
Sharing an overview of the report, Nitin Chalke, Managing Director – India, Eaton, observed, "Eaton focuses not only on business results, but also on how those results are being generated. This report strives to showcase how, by partnering with varied stakeholders, Eaton in India is offering sustainable customer solutions, ensuring green manufacturing and operations, powering a sustainable workforce and supporting sustainable communities to drive sustainable growth in the country."
"Eaton's commitment to India is exemplified by over a decade of continued investment in local manufacturing, engineering, research, talent development, supplier development, academia partnerships and focused community initiatives," Chalke further added.