Sex education necessary, but without vulgarization: Dr Harsh Vardhan
New Delhi, Fri, 27 Jun 2014
NI Wire
null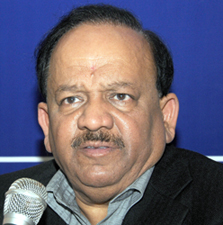 Union Health Minister Dr. Harshvardhan said that an unseemly controversy is sought to be generated in some media over the criticism of 'so-called sex education' in his personal web site, www.drharshvardhan.com/drharshvardhan-views-on-education.aspx
He said that While respecting the media's tradition of highlighting diversity of opinion on social, political and economic matters, Dr Harsh Vardhan has comprehensively denied that he proposes a ban on sex education as suggested by a prominent newspaper through banner headlines today.
The Minister, who is presently on an official visit to the United States, said "I am a medical professional who has embraced rationalism and I whole-heartedly support pedagogy that is scientific and culturally acceptable. Anything abrasive to common sensibilities and articulated as such by responsible persons should be discarded and replaced by consensually accepted learning processes."
He clarified that the view expressed on the web site was entirely his own and made in the context of the UPA government's 2007 decision to introduce the Adolescence Education Programme (AE) in its original form. Even the chief ministers of UPA-ruled states had objected to it and subsequently it was modified, he said.
As chief ministerial candidate of his party in the 2013 election, Dr Harsh Vardhan said he had full right to make transparent his agenda for education, among other subjects of governance. Value –based school learning processes are common in all countries and he had intentioned implementing such a format in Delhi's schools, he stated. In September 2002, a Division Bench of the Hon'ble Supreme Court of India had upheld the government's right to introduce Value Education in the school curriculum (B.G.Verghese, Aruna Roy and others Vs. NCERT, Writ Petition 98 of 2002), he added.
Without equivocation the Minister said, "Crudity and graphic representation of culturally objectionable symbols as manifested in the UPA's so-called sex education programme cannot be called sex education. Every education system must strive to have an ideal curriculum and to that extent my stand is valid."
The Minister, who had earlier held the Education portfolio (along with Health) in the Delhi government between 1993 and 1998, introduced several lasting reforms in the curriculum of the states schools in consultation with experts. There was a sex education component in the curriculum then too but nobody reported objections with it, Dr Harsh Vardhan said.
(With inputs from PIB)
null