The Village Arena: An Exhibition for Village Life on Canvas
New Delhi, Wed, 07 May 2014
NI Wire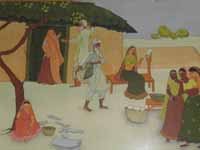 Shree Yash Art Gallery presents The Village Arena, a group show of 4 artists who are established and upcoming in the promising field of art.
The Exhibition will open on the 13th May 2014 at the Main Foyer of India Habitat Centre, Lodhi Road, the exhibition will be on till the 16th May 2014. The Participating are Dr. R. C. Bhawsar, Dr.S.D.Shrotriya, Dr. Rohini Sethi, Bhavna Sethi.
The Curator, Director, Shree Yash Art Gallery Mrs.Savita Agrawal, who also is an artist herself, finds herself very close to nature and village life. Hence, she chose this subject as it intrigues her as to how life is confined in the village and how the villagers think it to be there only world and try to be happy in their own world which is full of their own thought processes and their own little world where they find happiness from the minutest thing that they do.
Their satisfaction in doing their household chores or by fetching water from the well or by celebrating small festivals brightens their day and keeps them happy. As the wrestler in his wrestling arena only targets his opponent and cannot think anything beyond it, so is a villager, his village is his life and cannot think beyond it. As also the scenic beauty fascinates the artists with the mountains touching the skies or the horizon where the sky meets the depth of the seas, the tall mountains, the greenery, the lakes, and the breath-taking nature spreading its fragrance with a touch of godliness makes the viewer enjoy the picturesque view. The depiction becomes real to life and inspires the on-looker.
Mrs. Agrawal is the curator and Director of the Shree Yash Art Gallery, which has a mission to "promote Indian artworks and motivate upcoming artists".