Beauty in the Best: An exhibition of eight eminent artists
New Delhi, Tue, 06 May 2014
NI Wire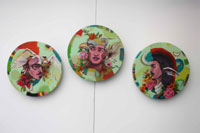 Floodlight Foundation Presented Beauty in the Beast-a Group Exhibition by 8 Artists, the exhibition took place at the Alliance Franaise with a presence of a Big gathering of Delhi Social Circle and Art Lovers.
Just before the opening there was also a special talk exploring the grotesque and the anti-aesthetic in contemporary art today led by the curator Surbhi Modi, Artist Anant Mishra discussed his practice and gave a sense of his conceptual basis and challenges he faced making inaccessible, incongruous yet beautifully balanced work.
This exhibition celebrates Bacon's notion of the "ordered chaos", where the aesthetic and the anaesthetic are constantly at odds and where abstraction fights figuration, leaving us with an altered reality, which has some semblance of the familiar, yet the intrigue of the new.
The title "Beauty in the Beast" is a Shrek-like take on the fairy tale where the ugly duckling does not become a swan, the ugly beast does not metamorphose into a handsome prince but where we brazenly glorify the grotesque.
We present artworks that remain unabashedly grotesque, uncanny and sometimes incongruous. While Anant Mishra drawings meander between the dualities of human and animal, abstraction and figuration, arrogating mythical beasts and fantastical characters, Bhuwal Prasad's vibrant, anarchic canvases exhort images of a familiar haze.
Mangesh's video installation combines the luxury of velvet felt with the raw cantakerousness of sound and video that show a delicate balance of a beast and a flower that move in a kaleidoscopic manner. His surrealistic pencil drawings are both humorous and insightful, and reflect the musings of a very wise child.
Rajesh's exquisite miniatures pay homage to Klimt but bring his own brand of melancholic nonchalance, to the forefront. Nayanna Kanoria's eerie oils show zebras in a living room and Malkhamb pole gymnasts in a forest, but maintain an unquestionable elegance even in their bizarre unbecomingness.