Office emails a Stress Bomb: Checking emails after office hours may cause stress
United States, Mon, 05 May 2014
NI Wire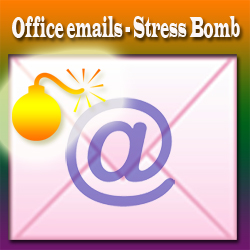 The habit of frequently checking the office emails after office hours mostly on the cell phones may cause stress. Study shows that if you have such habit then you are moving towards 'stress bomb'. You should be very careful as this 'stress bomb' can explode anytime.
According to a latest Gallup poll, using cell phones and tablet to read and send work emails outside office hours can dramatically improve your stress levels.
The findings revealed that nearly half of workers who frequently email for work outside of normal working hours report experiencing stress "a lot of the day".
Also, nearly 62 percent of workers said they have employers who expect them to check emails frequently outside of working hours.
Gallup interviewed 4,475 working adults, aged 18 and older, in the US.
The survey found that time spent working remotely outside of working hours has similar problems.
Nealry 47 percent of those who work remotely at least seven hours per week reported a lot of stress the previous day compared with 37 percent experiencing stress who reported no remote work time.
Workers who leverage mobile technology more often outside of work are much more likely to be stressed on any given day.
"Such behaviours can both positively and negatively influence employees' well-being in the long run," the researchers added.
(With IANS inputs)