AAP alleges, Delhi Police is working under political pressure
New Delhi, Sat, 31 May 2014
NI Wire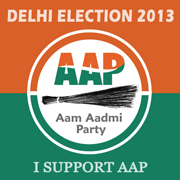 The Aam Aadmi Party has alleged that Delhi Police is under political pressure from its new bosses to harass the AAP leaders and volunteers. The AAP appeals to the top Police brass to dispel such notions and continue working in an impartial and fair manner.
Party said that tt is very surprising that when on Friday, the learned Metropolitan Magistrate in the Saket Court granted bail to the AAP MLA in the case of alleged scuffle with an employee of the Delhi Jal Board last week, the Police suddenly pulled out a nine month-old FIR against Jarwal and showed his arrest in a separate case.
AAP leader and former Delhi law minister, Somnath Bharti, who appeared for the Deoli MLA as his lawyer in the court, questioned the Police motive.
"It is shocking and disturbing that the Police can go down to such a level to ensure keeping MLA Prakash Jarwal in jail. Delhi police must answer why they did not arrest him till now in the FIR registered against him on August 30 last year, and what was the urgency now to invoke the dead FIR now," Bharti said.
Bharti will move a separate bail application for Jarwal in the court on Thursday and place the party's view before the court on the issue.
The AAP appeals to all its volunteers and sympathisers to continue their public contact programmes in all parts of the city in a peaceful and positive manner.
The party will do everything possible to maintain cordial relations with all law enforcement agencies, but expects these organizations to hear out the viewpoint of elected representatives and avoid any situation of confrontation.