World No Tobacco Day: Raise solid step, Only assurance is not enough
New Delhi, Sat, 31 May 2014
NI Wire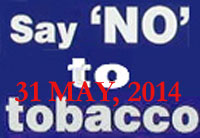 The growing menace of tobacco and its bad effect on us is enough to say the worst situation in this context. The situation has become so worst that only assurance is not enough for the same and there is a need for some solid action for the awareness and controlling the situation. On the occasion of World No Tobacco Day, there is a need to take some crucial and significant step for the betterment of the situation.
According to sources, tobacco is the cause of 40 percent of cancer cases in India, experts say banning it alone won't help. What is desired, they feel, is for the government to open more sedation clinics and begin education about the ill-effects of tobacco at the school level as children have started taking to smoking early these days.
According to Pawan Gupta, head of department, surgical oncology, Asian Institute of Medical Sciences, "The government has been doing the awareness bit, but there is a need of setting more tobacco sedation clinics that can assist the people in getting rid of addiction to smoking and the use of tobacco-related products."
It is noted that Gupta has written a book, "Win over Tobacco Made Easy", also wants the government to hold de-addiction workshops that can be a crucial for creating awareness.
It has been observed that tobacco - mainly in the form of gutka, beetle nut (paan), zarda and areca nuts - is the main cause of 80 to 90 percent of mouth cancer cases in India.
According to a report "Challenges to Effective Cancer Control in China, India and Russia - The Lancet Oncology"( April 2014) around two-fifths (40 percent) of all cancers in India are attributed to tobacco use, and the economic cost of illness and premature death due to tobacco consumption exceeds the combined government and state spend on medical and public health, water supply and sanitation.
Adding fuel to this growing malady is that schoolchildren take to smoking at an early age. This includes a growing number of young girls and women joining this dangerous bandwagon.
On its part, the government is leaving no stone unturned to make the public aware of the gory effects of using tobacco-related products on health, the lungs and the mouth. This is through posters displayed at public places and short-videos screened before movies in cinema halls.
Then, the warning - "Tobacco Kills" or "Smoking is Injurious to Health" - runs at the bottom of the screen every time an actor smokes in a film.
(With inputs from IANS)