Max Multi Specialty Hospital launches 'Healthy Her' programme for women
Noida, Thu, 29 May 2014
NI Wire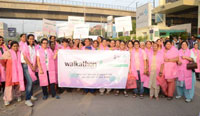 Celebrating the driving spirit of women, Max Multi Speciality Hospital, Noida today announced the launch of Healthy Her- an exclusive programme designed to focus on women's holistic wellness, emotional make up and stress management while coping with routine health concerns.
India's female population stands at 614 million. As per UNICEF data, around one-third of all adult women in India are underweight. Every second woman in the country is anaemic and 35.6% are malnourished. Malnutrition among women is majorly due to heavy work demands, poverty, childbearing and rearing and neglecting the special nutritional needs of women, which results in increased susceptibility to illnesses and consequently higher mortality. Women are the nucleus of the family.Since long they have been perfectly juggling the roles of wife, mother, daughter and a career woman. In this 'Juggling Act' they often tend to neglect their own health.
Dr Hema Lal, General Manager- Operations at Max Multi Speciality Hospital, Noida, said "In its continuous endeavour to provide international standard healthcare to the residents of Noida and its neighbouring areas, Max Multi Speciality Hospital, Noida has taken another initiative, this time for the women of the society. The Healthy Her programme is designed to offer focused customized healthcare to women for their holistic wellbeing."
The Healthy Her members shall be a group of females, conscious about their own and their families' wellbeing, having priority access to services at Max Multi Speciality Hospital, Noida. They will have access to not just the medical expertise for cure of illnesses, but also the holistic bouquet of wellness solutions like Preventive health packages, Ante Natal Classes, Dedicated Mother & Child Floor and Labour-Delivery-Recovery rooms for comfortable birthing experience. There will be dedicated resources available at the hospital to deliver priority service to the esteemed members of the programme and facilitate ease-of-movement within the hospital.
Speaking on the launch Dr Pratibha Singal, Senior Consultant and Head of Department- Obstetrics and Gynaecology at Max Multi Speciality Hospital, Noida, said "Women are the backbone of their family. But, with all the demands of family and work, most women do not give priority to their own health. A latest survey mapping the trends of cardiac diseases has revealed that heart ailments kill one in three women in India. The doctors surveyed felt that women are less proactive about getting diagnosis and treatment done as compared to men and often ignore symptoms of heart diseases. Considering the rising incidences of cardiac, gynaecology and various stress related health problems amongst women, there is an urgent need to pay attention to the health of your sister, mother, wife and grandmother."