Designer Salim Asgarally brings fashion education to underprivileged
Mumbai, Thu, 22 May 2014
NI Wire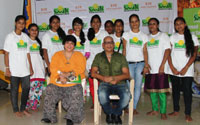 A name synonymous with high craftsmanship & articulation in his creations, with embellishments made from highly creative blend of east and the west, his world famous collections gracefully adorn the homes of Hollywood celebs like Brad Pitt & Madonna. Top models like Bipasha Basu & Aishwarya Rai have flaunted his creations in fashion shows.
Designer Salim Asgarally now makes fashion become a platform for change when he had top women directors walk the ramp for Smile Foundation's charity fashion show to signify their solidarity towards the girl child cause.Asgarally held a Fashion Workshop forOHOWMANunderprivileged youngsters in association with the Smile Foundation. The youth are in the age group of 18 to 25 who are part of Smile Twin e-Learning Programme (STeP) conducted by Smile Foundation across its centres in Mumbai.
STeP is the livelihood programme for the underprivileged youth, wherein the youth are given training on key employability skills like English proficiency, computer operations, personality development, etc. with the objective of helping them get a job in the growing retail and service sector. Smile Twin e-Learning Programme (STeP) is a national level livelihood programme of Smile Foundation that trains urban underprivileged youth with market-oriented job skills such as English, basic computer, personality development, retail management, relevant soft skills etc and makes them employed in retail and service sectors across India. More than 13,750 youth have been trained and 9850 have been placed in over 140 brands through 35 operational projects across India.
Through this Fashion Workshop, the first of its kind held by a fashion designer, Asgarally seeks to inspire these young minds towards a career in fashion as designers, costume designers, stylists, merchandisers, pattern makers, retail professionals, fashion buyers or other myriad options available in the trade at both a creative or management level.
The children inspired and wishing to be a part of the fashion business will then through the able offices of Asgarally be given scholarships for a year to study fashion at an institute of repute and will be assisted in making a career in the industry.
Asgarally was accompanied by the celebrated and award-winning filmmaker and director Kalpana Lajmi, who will give a talk on the importance, potential and need of qualified and trained Costume Designers in the film industry.Kalpana Lajmi to her credit has made several socially relevant films such as Rudaali, Darmiyaan, Daman and Chingaari. "A beautiful endeavour by Smile Foundation and Salim Asgarally to introduce and absorb underprivileged children to the world of fashion. I am very glad I was a part of it," said Kalpana Lajmi.
This endeavour succeeds a successful showing of Asgarally's collection titled RED for the Smile Foundation at a star studded fashion show in Mumbai last month in aid of providing education to a 1000 underprivileged children. This effort is now part of a continuing exercise with the Smile Foundation and Asgarally towards positive social change in the area of education for underprivileged children.