PVR Leisure brings back the all-day tea culture with Mr .Hong in Bangalore
Bangalore, Wed, 21 May 2014
NI Wire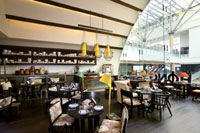 After a successful soft launch in January 2014, Mr. Hong, an Oriental all-day dining restaurant and bar in Orion Mall, Bangalore, is now fully operational and serving up a great selection of inspiring dishes. Mr. Hong strives to offer the most authentic Asian fare in town together with comprehensive collection of teas from the Asia Pacific region.
As a food and beverage concept, Mr. Hong revolves around tea as the underlying theme infused in every aspect of the brand, from food and beverage recipes to interior design. Serving an eclectic range of tapas-like steamed or fried dishes such as the proverbial Chinese Dim Sums, Mr. Hong aims to epitomize Chinese and South Asian hospitality at its best.
Set against a contemporary décor with subtle art deco undertones featuring Chinese artifacts such as clay pots and jars reminiscent of the age-old Tea trade, Mr. Hong's dining room is both theatrical and welcoming. Chef Amit Sasankar, in collaboration 20/20 Consultants, a Hong Kong-based hospitality advisory firm, has created an offering whose taste profile, whilst carefully tailor made to the local demand, and presented in a unique style, retains its origin and authenticity. As a result, Mr Hong truly is contemporary rendition of the Chinese Tea House concept with a fusion twist incorporating culinary influences spanning across the South East Asian regions.
Renaud Palliere, CEO,International Development, PVR Ltd, said, "Bangalore is a beautiful city and we are proud to contribute to its exciting and vibrant hospitality sector. With the establishment of Mr. Hong at the third level of Orion Mall, Bangalore, we are proud to offer a unique venue for the Chinese and Thai food lovers of the town."
From the onset we aimed at creating a brand that embodies the concept and underlying product offering in a fun and quirky manner, whilst hinting at authenticity, traditions and therefore quality. It didn't take long before the team homed it in on "Mr Hong" with a great deal of excitement, as we pursue our goal to roll out high quality casual dining concepts at value for money pricing ", he further added.
Offering a quality experience at a value for money pricing, Mr Hong not only promises great tastes and flavors, but also exciting visual entertainment. It is a perfect destination spot for a business lunch, casual pre or post-show dinner or cocktail, high tea or family weekend brunch.