Dastkar Summer Weaves Exhibition all set to rock
New Delhi, Wed, 09 Apr 2014
NI Wire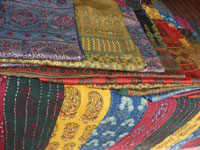 Witness the spirit of summer at the Dastkar Summer Weaves Exhibition. Under the shade of vibrant canopies, cool fabrics fresh off the loom will be brought directly by weavers and artisans at Dastkar's second edition of SUMMER WEAVES.
On display will be a wide variety of regional handloom textiles from across the country. Visitors will also get an opportunity to get a first-hand view of traditional techniques and hand-skills passed down from generations. Bright and breezy fabrics innovatively styled into sarees, dupattas, suit sets, furnishings & yardages will be a treat for the eyes, the wardrobe and the home.
Special Textile-Technique Demonstrations will be featured to showcase the processes that make handloom and hand-worked textiles such precious and distinctly unique fabrics. Weaving demonstrations on a handloom will illustrate how a length of cloth evolves from fibers spun into yarns that then combine one thread at a time, to form the beautiful textile. Bandhani is an ancient tie-dye technique from Rajasthan. Visitors will see how fabrics are intricately knotted into fine dotted designs, resist-dyed and then untied to reveal the intricately patterned designs.
The ten day handloom textile extravaganza offers crisp Kotas from Rajasthan, silken Chanderis & Maheshwaris from Madhya Pradesh, cool Khadis, intricate Ikats from Andhra Pradesh & Odisha and elegant Banarasi weaves from Uttar Pradesh. Also exhibited enchanting embroideries like Ari, Sindhi, Kantha and Chikankari adorn the weaves with grace.
To add a dash of fun, the afternoons of 18th, 19th and 20th of April will host rhythmic folk tunes of traditional Langa Musicians from Rajasthan, That's not all; the food court at the venue promises a lip-smacking treat. So, come and beat the heat with regional delicacies & rejuvenating beverages at the Food Court and be entranced by lively cultural performances throughout the event.