Diabetes may shrink brain by two years in a decade: Study
New York, Wed, 30 Apr 2014
NI Wire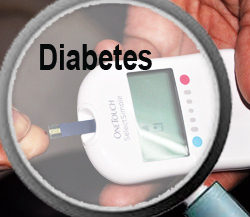 Diabetes badly damages the some part of the human body and it left a bitter life for the victims but in a latest development, researchers have been found that it badly effect human brain also. Yes, study said that diabetes may shrink your brain also by two year every decade. It is the first such study linking diabetes to a change in the size of the brain.
According to R. Nick Bryan, a professor of radiology at University of Pennsylvania's Perleman School of Medicine, "Our research found that patients having more severe diabetes had less brain tissue, suggesting brain atrophy."
They did not seem to have more vascular disease due to the direct effect of diabetes, Bryan added. To find evidence, the researchers used magnetic resonance imaging (MRI) scan to find the link between type 2 diabetes and brain structure in 614 patients.
During the research, the findings showed that longer duration of diabetes was associated with brain volume loss, particularly in the gray matter. For every 10 years a patient has diabetes, their brain looks approximately two years older than that of a non-diabetic person in terms of grey matter volume.
However, they found no association of diabetes characteristics with small vessel ischemic disease in the brain, a Daily Mail report said. This opens up a new pathway to treat patients with diabetes, the study concluded.
(With inputs from IANS)