Scientists to develop non-insulin drug for diabetes and obesity
Washington, Sun, 27 Apr 2014
NI Wire
null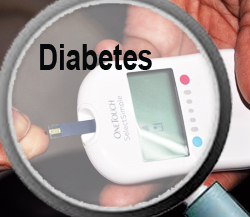 Researchers are on the way towards developing a new potential non-insulin drug for diabetes and obesity, which needs to be taken only once a week. If their efforts meet to a success, then certainly it will be a new achievement for medical science.
Researchers at Indiana University, including an Indian-American, are leading the way Dr. Arnab De, who has a PhD from Columbia University, and Prof. Richard DiMarchi of Indiana University have worked on developing a pro-drug or an inactive substance that is converted to a drug within the body, to stabilise a sugar reducing peptide hormone called GLP1.
According to sources, Indiana University Research and Technology Corporation (IURTC) have applied for international patents for these pro-drugs and they are currently being licensed to leading biotech/pharmaceutical companies for optimisation.. But it may take five years or so before the new drug hits the market after optimisation and clinical trials, said De who was one of the winners of 2009 Young Investigators' Poster Competition by the American Peptide Society.
Commenting on his research, De said, "Patients often have to take an insulin injection after every meal. An overdose of insulin may drastically reduce blood glucose leading to life-threatening diabetic coma. Hence we wanted to develop a non-insulin drug, which would hopefully act for a prolonged period of time so that patients do not need to take it every day."
"The pro-drugs are water soluble and stable in the powder form for long term storage. They are initially biologically inactive, but slowly switch to the active drug at body temperature and pH, driven by the inherent structure built into these pro-drugs."
"This should eliminate chances of variable drug action in between patients," he added. According to The International Diabetes Federation, obese individuals are far more prone to heart attacks and adult-onset diabetes. But as Subho Mozumdar, a faculty at the Delhi University points out "One problem commonly associated with insulin treatment is that patients gain weight, and weight gain paradoxically causes diabetes." "Hence an effective GLP-1 based therapeutic could be revolutionary, as it also reduces obesity," he wrote in an-email.
(With inputs from IANS)
null