Life is like that: An Caricatures by Edua Szucs organized
New Delhi, Wed, 23 Apr 2014
NI Wire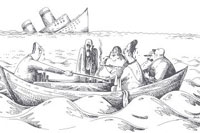 By Manish Kumar
The Hungarian Information and Cultural Centre organised organizing a graphics exhibition titled LIFE IS LIKE THAT, caricatures by Édua Sz?cs from Hungary who is an eminent graphic artist, cartoonist and illustrator. The exhibition inaugurated by Ajit Ninan, Cartoonist and Chief Graphics Consultant at the art gallery of the Hungarian Centre.
In our rushing days full of challenges, it is a great value if someone is able to stop us and in this fleeting silence she can bring smiles to our face. The real caricaturist is a creator who can work this miracle by putting a distorting mirror to us reflecting our heart and mind, so that in the picture seen there we can recognise ourselves and our world in a way that through her thoughts formed by the exhibited love, we should be able to smile at ourselves.
In the contemporary art, Édua Sz?cs belongs to those mature graphic artists who practise their expertise based on their belief and proficiency. Her drawing skills are amazing, her aspects for creating situations are brilliant, her knowledge of humanity can sensibly react to such resonance that makes it possible for everyone to have the same personal reaction.
Her thinking is capable for changes in accordance with modern age. The line is a constructing element of the picture for her and beside possessing the beauty of the details, it has got a characterising strength in the whole of the composition by turning her experiences of life into a picture, and transmitting them through visual means.