Premia India Runway Week: Shruti Sancheti Collections
New Delhi, Fri, 18 Apr 2014
NI Wire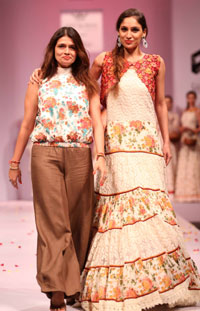 The fascinating, tranquil city of Pondicherry is a melting pot of various indigenious and international culture's. Originally a part of Pallava kingdom of Kanchipuram, this quaint town on the Bay of Bengal was under various colonial powers like Dutch, Portuguese, English and most importantly the French making it a conflation of historic traditional Dravidian cultural ethos blended with colonial European sensibilities. The unexampled identity of this quaint union territory, with its quiet, shady cobbled streets with mustard yellow colonial town houses facing the promenade is a reminiscent of French Riviera but the divine temples, the tranquil Auroville ashram and the local Tamil population all make this quaint and charming town remarkable, in terms of history, culture and lifestyle.
My collection for Summer/Resort' 2014 for Premia India Runway Week -Le Pondi is heavily inspired by the unique and singular existence of two parallel culture's which are beautifully blended together in this union territory. The Tamil influences are carefully merged with distinct French and other European sensibilities. The collection is an amalgamation of finely woven Temple weaves, an integral part of the Dravidian culture but the borders have been given a pastel color palette and the base fabric is luxuriously woven with a 150 thread count. Along with this luxurious woven silks, untreated calico cotton, cotton silk etc have been used as base fabrics.
The European bohemian flavor is imparted by intricate screen and block prints depicting blooms and flowers and delicate, wispy lace fabric along with dainty hemline laces for a continental effect. Surface ornamentation is delicate and pretty in form of long and short stitches, detailed cut work, french knots, cross stitch , etc. Silhouettes are long, relaxed yet there is an element of Parisian construction and detailing, and long midi's, maxi's, flared jumpsuits, asymmetrical dresses, jackets along with Indian silhouettes like kurta's, tunics, sari's all have been merged for the cross cultural flavor. The base fabric color is untreated and is white, off white, ecru and floral motifs in pretty pastel colors like powder blue, mint green, moss green, aqua, coral, canary yellow, lilac, bubblegum pink have been used to convey a fresh summer look.
The look is a cross confluence of two contradictory cultures spread across two continents and is meant for a global citizen who believes in the universal beauty of crafts, surface ornamentation and weaves and wants to flaunt best of both the worlds down her sleeves.