Rashmi Singh's latest Solo Show Ayati discovers her unbridled freedom
New Delhi, Wed, 16 Apr 2014
NI Wire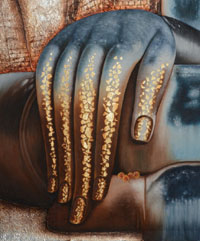 A good fight is never won unless you back it up with complete faith- whether it is with outer forces that you are fighting or it is a fight with your own body or soul. With brain haemorrhage and multiple fractures, Rashmi was bedridden and cared less about herself, her near and dear and even life.
Little did Rashmi know about her past and the uncertain future when she fought and struggled to get back to life from her retrograde amnesia. Her name, her family members, and even memories, she could recall nothing. Where mothers are supposed to be the guiding light for their children, Rashmi's daughter became her guardian angel and inspired her to channelize her life into something constructive. It was faith that changed her life forever.
God had served her a new canvas to paint on. And she drew a beautiful joyful picture rather than a dull, painful, dark one. She started from learning the alphabets, straight lines and figures and finally after a long struggle she recovered. As a part to reconstruct her life, she also learned how to draw, paint and mix colours. Sculptor Purshottam Singh contributed to her journey as she learned the basics of arts from him.
In earlier works of Rashmi Singh one could find her effort in trying to reconstruct her life.
They were inspired by the work that she observed artisans from far and wide do on various mediums starting from wood to clay. Now a mature artist, her work incorporates Miniature Paintings, Tanjore Paintings and Relief Works. Most of her works talks about spirituality and the struggle she faced while she bounced back to her normal life. And many about the joys and process of finding true peace within oneself.
"Truly I don't treat myself as an artist. Art is like a soothing treatment to me, It is just a form of expression for me. Peace can be achieved only through complete devotion and true peace is when one can be in unison with one's soul. Exhibiting my work was never my motive, but a time came when I was asked by everyone to exhibit my works as an inspiration to others," says Rashmi Singh.