Spring 2014: A group exhibition of paintings by women artists
New Delhi, Wed, 16 Apr 2014
NI Wire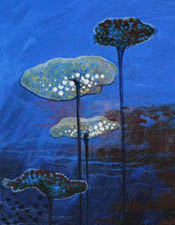 'Spring 2014' a group exhibition of paintings by 21 very talented women artist from different parts of India. All 21 women artists of this show have moved beyond oil on canvas and acrylic ambit and used unorthodox mediums such as gold leaf, plastic waste, tie and dye with embroidery among others, to message their concerns and illuminate the world of pictorial art with insightful inputs.
The stylized feminine forms of Varsha Kharatmal's women, in vivid colours and elaborate ornamentation, celebrate the joys of femininity, while the evocative self-portraits of Swapnil Srivastava, emphasise the intensity of today's woman as a narrative in muted tones, and defined spaces, without being dark and oppressive. Motherly concerns, embodied through the Kaushalya-Rama form, is given resurgence in the colourful concepts of artist Neeta Singh, and the protective tendencies of women, are imaginatively cocooned in the depictions of Balwinder Tanwar, who articulates her idea through a pair of symbolic hands.
Fantasy and art being handmaids of the same Muse, find adequate coverage through the works of Minal Rajurkar Shinde, whose feline-canine-faced beings tellingly blur boundaries. Fertility finds adequate representation in the sheaf-like cluster of Nandini Pantawane, synchronising nature and woman artistically. At one level starkly human and at another mythical, the etchings of Tejaswini Sonawane have an allegorical content expressed through otherworldly creatures and dominating postures.
Compositional cohesiveness in Seema Gondane's etchings have a powerful collectivism with the charming mesh of the whole uniting into an epistle of close bonding. When imaginations stretch beyond sheer roundedness, then works such as Rashmi Bawankar's come to the fore, with a mythical presence hovering above cityscapes, in a realm away from the grip of daily living.
As art is best understood when it is interpretative, the abstract content of Rashmi Kachewar's work, startles our imaginations by their concentrated mass of form and empty spaces. The angular sharpness within a watery backdrop of subtle colour tones, appears to vibe with her viewers.
Quite often, using traditional formats in the language of modern art can be a tall order, but Alka Brushundi's new approach to Tanjore art, embellishes its characteristics through unique placements, and related subtleties. Similarly Rakhi Salunke has given Warli paintings a new makeover with deceptively simplistic line work and an in-depth feel, impossible to overlook.