Premia India Runway Week Summer Edition set to start in New Delhi
New Delhi, Fri, 11 Apr 2014
NI Wire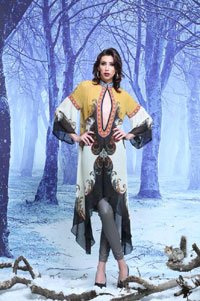 Indian Federation for Fashion Development (IFFD) has slated the second edition of Asia's youngest fashion trade event, the Premia India Runway Week Summer Edition (PIRW SE 2014) from April 16 to 18, 2014, at the Talkatora Stadium in New Delhi.
The Premia India Runway Week will provide a platform created for the designers of tomorrow to showcase their talent in an industry event that will target domestic and international buyers and media.
The participants in the fashion shows are themselves a virtual who's who of those who design all the latest styles that become fashion statements. They include Sonia Jetley, Shruti Sancheti, Asif Merchant, Rajdeep Ranawat, Swati Modo, Niket & Jannee, Stylion by Manish Gupta, Rosy Ahluwalia, Sandip & Anju Chanana, Ramesh Dembla, Pluss by Sandeep Aggarwal, AUM by Nishu Jain, Aashna Vikrant, Shivani Singh, Akaash K Aggarwal, Charas by Ankur & Sonia, Kavita Gogna, Ritu Chhabra, and Crescent by Faraz Manan.
While Premia is the Title Sponsor, Shree Rajmahal is the Associate Sponsor, and Audi is the Automobile Partner. The show and exhibition space will provide these designers a dynamic platform to interact and develop lucrative business-driven relationships with the domestic and international industry as well as celebrities who are known for their fashion statements, and opinion leaders.
The Indian Federation for Fashion Development will arrange runway shows and premiere fashion content that enables the connoisseurs of the latest in fashion to discover new and innovative ideas.
Speaking on the occasion of announcement of the dates, IFFD Director Avinash Pathania said, "PIRW is a young platform for young designers to showcase their exquisite collections to bulk and retail buyers, media, and fashion connoisseurs."
Kiran Kheva (Director, IFFD) added "After a very successful first edition, we are looking forward to an even more successful second edition of summer collection. The second edition Of PIRW shall witness a different scale of creative canvas and a new dimension to the business and establishing PIRW as a distinctive brand in Indian fashion industry."
Tarun Shienh, Managing Director of the Premia Group said, "You live only once. So friends lets live this life in grand style at PREMIA INDIA RUNWAY WEEK where fashion meets talent. Let's make it large."
Mr. Pradeep Goel, MD Shree Raj Mahal Jewellers, the Associate sponsors of the event quips, "We intend to promote the Indian Fashion Industry and upcoming designers by providing a large platform like 'Premia India Runway Week' that can create a milestone for Industry as well as Shree Raj Mahal Group. We are honoured to be a part of this event, and consider it a unique opportunity for us to bring together the Indian Jewellery and Fashion Industry."