French designer Emanuel Ungaro at Wills Lifestyle India Fashion Week
New Delhi , Mon, 31 Mar 2014
NI Wire
null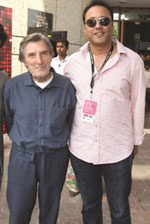 The Wills Lifestyle India Fashion Week got coloured in the ingenious flavours of international style when celebrated French couturier Emanuel Ungaro visited the event on the morning of Day 4. Ungaro wowed guests at the Wills Lifestyle India Fashion Week 2014 with his love for Indian crafts and understanding of handlooms.
The 81-year old guru, who is known as Paris' 'Prince of prints' in the 70s; was seen enjoying the shawls and stoles at EZMA, during the Wills Lifestyle India Fashion Week and also visited stalls of designers Rina Dhaka, Pankaj & Nidhi, Paras and Shalini among others.
"It was a great honour to have Mr. Ungaro with us at this season of India's biggest fashion event, the Wills Lifestyle India Fashion Week. His ensembles created a stir in the revolutionary 80s with his understanding of sensuality, cuts and textures, which made his evening gowns a force to reckon with on the Red Carpet," said Mr. Sunil Sethi, President, FDCI.
"I'm delighted to be in India which is a country known for its myriad hues, embroideries and drapes," said Ungaro.
Ungaro, whose designs were a tribute to femininity, with a play of colour clashing and contrasts, had launched his label in Paris in 1965. But it was the master himself who taught a young Ungaro the nuances of design Cristobal Balenciaga. "There was nobody like Cristobal, he was a maverick. His cuts brought out the beauty of the female form," says Ungaro.
null