Delhi Boy Radhey Patel receives multiple Art Scholarships in London
New Delhi, Fri, 28 Mar 2014
NI Wire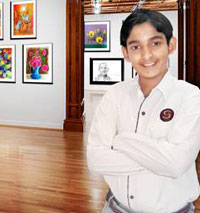 A student of 5th standard at Scottish High International School Radhey Patel awarded a distinguished Art scholarship at three of the best independent schools in United Kingdom, namely Merchant Taylors' School, The John Lyon School in Harrow and Aldenham School. This recognition award honors the tremendous effort, dedication and preparation Radhey has exhibited in his art and academic studies.
Child prodigy extraordinaire Radhey Patel rose to fame a few years ago when, at the tender age of seven, the National Institute of Fine Arts labeled him "child genius." Media outlets were also enamored with his painting abilities, praising the child for his tendency to create arts that, well, looked like the work of established artists.
Expressing happiness on the success of her son Mrs. Patel, the proud parent of Junior Picasso says: As a young child, Radhey loved to doodle, draw and paint like other kids but his paintings were different. We realized his ability to paint extraordinary things at such an early age where kids don't think beyond having a fun-filled life. Refrigerators at home served as galleries for his art work and walls as canvas. As responsible parents we are promoting his interest so that in future he should be enjoying his profession rather than taking it as a burden."
Radhey Patel articulates, "There is never a moment's doubt in my mind that this is what I want to do. It's a very creative process, getting to express my thoughts and imagination and making the impossible possible. The first thing that pops up in my mind when I wake up is new ideas for art. I have always had a drive to experiment and make unique things with my hands. Art helps me process my thoughts and feelings and interpret them. Art is one of my languages for expression. Making and seeing art excites my brain and makes my day complete."
In one of his paintings Junior Picasso Radhey dedicated to Nation's father Mahatma Gandhi titled Transform: Making of a Mahatma attempts to show case how Gandhi, an attorney in South Africa transformed into a Mahatma during the fight for independence. The theme was to create a piece of artwork, based around the word transform - the word suggests something is changing or shifting, turning from one thing into another. I was inspired by the quote of "You gave us Gandhi, we gave you back the Mahatma-Nelson Mandela".