Day-long Awareness Campaign on World TB Day at AIIMS
New Delhi , Mon, 24 Mar 2014
NI Wire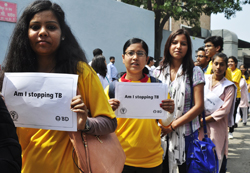 Hundreds of students took part in the formation of a human chain and rally to express solidarity with TB patients to raise public awareness about the debilitating disease at AIIMS in association with Becton, Dickinson & Co. (BD India), a leading medical technology company on the occasion of World TB Day.
The rally was flagged off by Dr. M. C. Misra, Director of AIIMS and witnessed teachers and students from Dayal Singh College (DU) and NDMC schools holding banners and posters in their hands informing locals about the seriousness of TB and its prevention methods. Participants raised slogans urging people to be mindful about spitting habits and seeking diagnosis if cough persists for more than two weeks.
Speaking on World TB Day Awareness programme Prof Sarman Singh, Faculty-in-charge, Microbiology, Department of Laboratory Medicine, AIIMS said, "Tuberculosis has inflicted much misery in terms of suffering and morbidity in the past but wherever we have taken strong and proven measures, the number of people falling ill with the dreaded disease has declined remarkably. Government of India should generate its own data reading efficacy of various diagnostic tests, as some of the recently introduced molecular methods have shown poor performance in detecting the drug resistance. GeneXpert has been a revolutionary diagnostic method in Africa but in India it can miss as many as 1/3 of Rifampicin resistance cases. If such systems are used routinely, this would give a false impression that India has very low rifampicin resistance thus making the programme managers complacent."
As part of a daylong activity, students also participated in quiz competition and skit on the disease. Dr. V.M. Katoch, Secretary, Govt of India & DG, ICMR, gave away prizes for the best slogans, skit, quiz and certificates of participation.
In addition, a day-long symposium was organized in AIIMS auditorium that was attended by many doctors. Several topics on diagnosis, challenges in pediatric, pulmonary and extra pulmonary TB, evolution of Mycobacterium Tuberculosis driving drug resistance and challenges in TB control were discussed by eminent speakers such as Dr Urvashi Singh, Additional Prof, Microbiology - AIIMS, Dr Ranjani Ramachandran WHO SEARO, Dr Rohit Sarin, Director-National Instt of TB & Resp diseases, Dr VP Myneedu, NIRTD to name a few.