World TB Day: President call for united efforts for eradication
New Delhi, Sun, 23 Mar 2014
NI Wire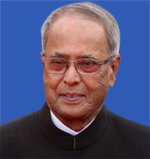 President Pranab Mukherjee has expressed confidence that with determined efforts, India can be free of tuberculosis within a short period of time. His message come in the light of World Tuberculosis day to celebrated on 24 th of March.
President called upon people to unite their efforts to bring an end to the age-old scourge.
Mukherjee said, "It is a matter of deep concern that TB continues to kill one person every two minutes or almost 750 people daily in India.
"Our endeavour should be quick diagnosis of TB patients and providing high-quality treatment for all diagnosed cases."
"Let us commit ourselves to building health care systems in the country which are equitable, affordable and accessible by all sections of the society. I am confident that with determined efforts, we can establish a TB-free India within a short period of time," Mukherjee added.
(With inputs from IANS)