CAIT objected government move to seek EC regarding FDI node
New Delhi, Fri, 14 Mar 2014
NI Wire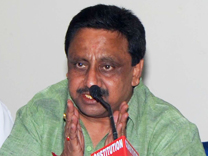 The Confederation of All India Traders (CAIT) has taken strong view of the statement of Commerce Minister Anand Sharma wherein he has told that Government will seek Election Commission nod to allow FDI in online retail. The CAIT has warned that any such step will cause enough damage to poll prospects of Congress.
The CAIT will file a caveat with Election Commission. It has also sent a communication to Congress Vice President Rahul Gandhi to stop any such move of the Government. " Such a statement of Mr. Anand Sharma is strongly rejected and we will oppose tooth and nail any such move by the Government. Proprietary demands that since FDI in online retail is explicitly restricted in notification of FDI in Multi brand retail, the Government can not go against the provisions of the said notification"-said CAIT National Secretary General Praveen Khandelwal today at New Delhi.
CAIT National President Mr. B.C.Bhartia and Mr. Praveen Khandelwal said that the DIPP department of Ministry of Commerce has floated a discussion paper on FDI in online retail on 7th January, 2014 and sought views of the stakeholders. Before taking any such move, the Government should spell out the responses received and hold consultations with stakeholders.
The CAIT while strongly opposing FDI in online retail said that Indian market is not yet ready for opening up e-retail space to foreign investors. Small time trading or opening corner stores still remains a large source of employment.FDI in the sector will have disastrous impact on this domestic industry leading to monopolies in e-commerce, manufacturing, logistics, retail sector etc. and causing large scale unemployment.Because of scale of economic operations,e-commerce players will have more bargaining powers than standalone traders.
Allowing FDI in e-commerce will provide e-commerce players with complete geographical reach which will be against the spirit of FDI in multi brand retail trade i.e. being restricted to cities with a population of more than one million in consenting states or any other city of their choice.Moreover,Indian e- commerce industry which is at a nascent stage of development will be seriously threatened. Instead of allowing FDI in online retail, the Government should focus to enhance the capacity building of existing retail trade and promote them towards online retail beside conducting business through their shops.