'U & Me against Dengue' launched to raise awareness
New Delhi, Tue, 11 Mar 2014
NI Wire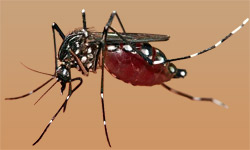 To prevent and curb the danger of dengue, a nationwide campaign was launched to raise awareness about dengue and control its rising incidence across India.
The two-month campaign, "U & Me Against Dengue", intends to reach out to more than 65,000 school children in more than 130 schools, and 85,000 households across approximately 170 resident welfare associations to conduct fumigation, street plays, plantation and cleanliness drives.
According to sources, as part of the campaign, a 24x7 toll free dengue helpline 1800-200-0801, along with a website launched. The campaign will be rolled out in phases across Delhi, Mumbai, Bangalore, Kolkata, Pune and Ahmedabad.
"We all have read that prevention is better than cure and in the case of dengue, where there are no vaccines to cure this disease yet, prevention becomes all the more important," said Chandrakant S. Pandav, professor and head, centre for community medicine, All India Institute of Medical Sciences (AIIMS).
"We welcome this step to empower the community by creating awareness about dengue and educating people about preventive measures to make their community dengue free," added Pandav.
The website also allows willing consumers to volunteer for blood donation to fill in their details, following which the Rotary Blood Bank will reach out to registered users.
According to Sudarshan Agarwal, emeritus and founder president, Rotary Blood Bank, "The key requirement of a dengue patient is platelets of matching blood group. While some of us may be regular blood donors, most of the people who wish to donate blood are not sure about how and where they can do so. Our association with the campaign allows us to equip more such people and help them donate blood safely,"said.
(With inputs from IANS)