Traders launch stir against Delhi VAT department
New Delhi, Tue, 11 Mar 2014
NI Wire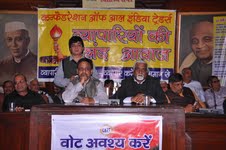 Traders from Delhi have deeply disgusted with functioning of VAT Department has now decided to launch a stir against Delhi VAT Department for its various recent notifications which has led to gross resentment in the business community. At a meeting of Delhi traders leaders strongly condemned the attitude of VAT Department towards traders and lamented that several pending issues of the traders remain unsolved till date and now traders have left with no other alternative but to launch a direct agitation against VAT Department.
Leaders said that they will launch their agitation against VAT issues the Delhi traders will hold a Protest Dharna on 12th at Town Hall, Ghantaghar, Chandni Chowk and will place keys of their shops as a mark of protest.
Leaders said that in a recent notification, the VAT Department has enforced Form T-2 w.e.f 15th March in Delhi according to which prior to entry of any goods in Delhi, the traders are liable to provide online information of such goods to VAT Department otherwise the goods will not be entered in Delhi.
In a public notice issued by the Department, kit has been made mandatory for the traders to keep Account Books of seven years at principle place of business failing which the traders will be subject to penalty and even imprisonment.
The meeting was attended by prominent trade leaders of Delhi including Praveen Khandelwal, Narendra Madan, Ramesh Khanna, Suresh Bindal, Sushil Goyal, Vijay Gupta, Dev Raj Baweja, Satendra Jain, Shankar Lal Agrawal, Udhav Sharda, Ajay Sharma, Rajeev Batra, Ram Lal, Naresh Sambhar, Vipin Ahuja, Omprakash Goyal, Sanjeev Mehra, Sushil Kumar, Harish Sachhar etc. beside trade leaders of more than 150 trade associations of different parts of Delhi.
The traders at the meeting lamented that since last many years the traders are cooperating with Department which has resulted into great enhancement of revenue .The traders are spending lot of money in collection of taxes for the Government but instead of appreciating the gesture the Department is more eager to contemplate new policies and notices for victimising the traders.