Paris Fashion Week Spring 2014
Paris, Mon, 10 Mar 2014
NI Wire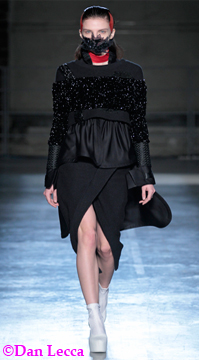 Paris Fashion Week held this spring came up with an array of exotic fashion trends. Here we introduce the trends and collections of Paris Fashion Week Spring 2014.
Paris is long hailed to be the fashion capital of India and the two yearly fashion weeks celebrated in the French capital proclaims this tradition with the befitting glitz. Paris Fashion Week Spring 2014 scheduled from 25 February to 5th March is going to offer some of the most enrapturing trends of the world fashion today. The event which already became a prominent cultural event in the city happens every year in autumn and spring and is the last of the four fashion weeks held consecutively in New York, Milan, London and Paris. Fashion experts and enthusiasts and designers all over the world believe that it is in Paris the fashion week gets its full exposure and vibrancy with quintessential Parisian touch to this fashion extravaganza. Here are some of the prominent trends in wearable and accessories that we have observed in this prestigious fashion show.
Fading touches of winter
Paris Fashion Week Spring 2014 has fuelled our imagination on springtime dress codes with a little winter touches. With longer and lighter overalls that typically fit to the faint chills of bygone winter and approaching spring summer and vibrant color scheme that almost drawn on ethnic cults and backdrops really offered some great fashion wear both for the eyes and sense of comfort. Oversized blazers meet sexy pencil skirts to incorporate the adventure of summer and bygone winter within the same frame and that's pretty cool.
Cool shades of pastel
More than anything this fashion week has been particularly mind boggling with lots of experimental shades in your apparel. Particularly pastel became the "IT" thing in spring fashion week this time. Some designers made it a point to give the pastel shades a cool and elegant countenance and they have been really marvelous in pushing forward a new trend in the experiment with the color scheme. Pink, purple, coral, green, blue or any other more vibrant shade appeared with more elegance and sophistry with the pastel effect and thanks to this new breed of designers who are experimenting on them for a long time the trend seems to make good inroad in the apparel market.
Effortless elegance
Yes, that can be the best way to express the brilliance of a wide variety of fashion apparels shown in the Paris Fashion Week Spring 2014. Fashion with all its exotic charm and elegance seemed more original, organic, natural and most importantly effortless here and that may let you surmise the fact by the known cliche "back to basics". Nevertheless, you cannot shun your eyes from this overwhelming fact perceived all over this fashion celebration that presented an array of really sumptuous, colorful, vibrant wearable that are exceptionally easy looking and effortless. To make a fashion trend penetrate into the social psyche and become the favorite of the millions it needs a simple and straightforward approach and these huge easy going apparels on display in this show befittingly address this prerequisite. The Hermes collection of Christophe Lemaire is particularly worth mentioning with its sophisticated elegance and effortless luxury.
Let it loose
Spring summer fashion apparels are always dominated by a feeling of spaciousness and comfort and so loose oversized apparels often make up to the imagination with a pinch of sexy cuts here and there. But this fashion week made all this over sized apparels come with an altogether different vibrancy and colorful elegance. Long overcoats with far flung tails, roomy loose skirts with stylish folds and cuts and oversized shirts coupled with a more vibrant and natural color scheme fueled our fashion appetite and truly expecting to see the trend unreeling more.
A vibe that make you remember 70s
While the post depression, angry young punk mood is still reminiscent in the apparels and appearance of the young men adults of 70s, the simple and overtly straightforward look in the casual dress code of women at that time often seem to catch no attention. But in this Paris fashion week this year, the casual wear of the 70s got a mark in the hands of some gifted fashion thinkers and designers. The casual seventies vibe with its quintessential bare skin and sports icon element has produced some great fashion outfits.
Top collections of Paris Fashion Week Spring 2014
Miu Miu: Exotic prints and a overall young girl look of its apparels made this brand so acclaimed. From cat printed jackets to delicate designs in the socks, Miu Miu offers lot of design elements.
Lui Vuition: Lui Vuition this fashion week made a dramatic presence with dominating outfit all clad in black. A steely countenance with smart cut and fit established a sense of dominance so common in women of our era.
Alexander McQueen: Feather cover on sweater, feather skirt and horizontal wave of simple fine ethnic stripes made this famous designer collection really sumptuous.
Valentino: Valentino made all the romantic statements with its exotic collection of maxi dresses, less works and overall fine smooth lighter appearance that equally make you refer to gorgeous southwestern queens.
Chanel: Tweed and pearls always has been the hallmarks of fashion with this designer brand but this time in Paris Fashion Week Spring 2014 they came up infusing exotic large pearl choker and too little of shoes and more exposure to socks.
Saint Laurent: Besides those exotic imagination infused party wear the designer brand came up with cool man-like blazer, sparkling skirt and a typical rock n roll makeup delivering us a sense of seventies glamour thrill. The brand also delivered a gamut of full-fledged men's wear designed for women incorporating all elements, from tie to suit piece to shirts.
Elie Saab: The designer brand which has built a reputation of producing most exotic range of floor range dresses this time hit the catwalk with its racy slips collection in red and black.