Google buys 5.94% stake in Lenovo for $750m as part of Motorola deal
New Delhi, Fri, 07 Feb 2014
NI Wire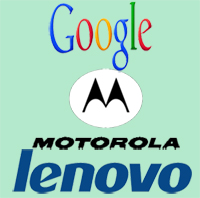 Google has bought 5.94% stake worth $750m in Chinese PC maker company Lenovo as part of Motorola deal. Google sold its Motorola Mobility division just a day-before the buy-out to Lenovo for $2.91 billion deal.
Google has bought 618.3 million shares of Lenovo at $1.213 per share. In addition to $660 million in cash, Google plans to pay $1.5 billion in the form of a three-year promissory note.
Google had bought Motorola for $12.5bn. While selling Motorola company said that smartphone market is very competitive and company has actually been interested in its patents that will help protect Android operating system.
Since the day Lenovo announce the deal to buy IBM low-end server on 29 January, its share has fallen drastically. However, company believes that the recent downfall in the stock will not have a great affect as company is planning for a better future.
With this deal Lenovo is trying to make a global presence, ceasing US and Latin American market, where it didn't existed before. But now after buying Motorola, Lenovo has suddenly become the third biggest smartphone manufacturer in these areas.
However, it still is nowhere close to first placed Samsung and second placed Apple and has long way to go to catch up with them.
Lenovo has shown in the past, when it made a deal with IBM for its ailing Thinkpad that it can buy a loss making division and turn it around. Lenovo over took Hewlett-Packard in 2012 as the largest PC maker in the world.
Company already has a strong hold in China the biggest market for smartphones and has a good hold in other developing countries and now it has the chance to make its place in developed countries as well.