Gold Bra worth Rs. 4 Lac launched during Body wear International Trade Expo
New Delhi, Fri, 07 Feb 2014
NI Wire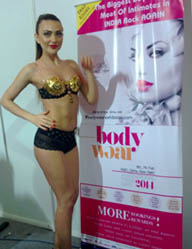 During the ongoing trade exhibition of Bodywear International Trade Expo-2014 at N.S.I.C. Exhibitions Ground, Okhla, New Delhi,where wide range of Lingerie, Bras, Panties, Nightwear, Men's Undergarments, Bridal Lingerie & Bridal Nightwear, Chemises, Camisoles, Corsets and Bustier, Push-up Pads, Bra extenders, Beachwear, Sports & Gym Wear, Fabric, Laces & Accessories, Garment Machinery, Trade Publications etc is on display for industry people as well for general public.
During the fashion show, India's first designer Gold Bra is launched by SONA LINGERIE worth Rs 4 lac. This bra is made of the softest silk, the most delicate lace, and the sheerest chiffon combined with gold and diamond embellishments. Every item is a handcrafted work of art, worth more ounce for ounce, than even some of the finest jewelry.
Further briefing on the occasion, Pradeep Gupta of Sona Lingerie Studio said that, "the product is designed for wedding occasional theme and is available in different themes like; Diamond, Gold, Fusion, Pearl, Aqua, Retro, Hippi, Street, Halloween, etc. The price range starts from INR 10,000 and can go upto INR 4,00,000 /-
According to Sanjay Manochathe organizer of Bodywear Trade exhibition and fashion show, "Every year we organize this trade & fashion show, with an objective to show the latest trends of lingerie to the industry and the consumers. This time, for the First time in India, the Gold bra worth Rs 4 lac is launched at the show. This show is a platform for approx 200 Indian & International players and platform for Indian consumers for latest trends in lingerie industry for men, women and kids."