History of Valentine's Day
New Delhi, Fri, 14 Feb 2014
NI Wire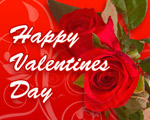 The month of romance February has come for which the people across the world were eagerly waiting as the day of love 'Valentine's Day' commence on this month on February 14. But one of the most common question that arises in everyone's mind when it comes in celebrating Valentine's day is about the history of Valentine's day and why Valentine's day is celebrated all over the world on February 2014.
In order to know the know the fact as why is Valentine's Day celebrated on Feb 14 and who is St. Valentine in remembrance of whom the day is celebrated, it is very important to know the history of Valentine day. So, let us know about the history of Valentine's Day to end up the curiosity in your mind.
The story of St. Valentine has basically two major insights: the Protestant and the Catholic. However, both the stories related Valentine's Day has a similar consent over Saint Valentine, who was a bishop engaged in conducting secret marriage of soldiers, who were against Emperor Claudius II, who had passed an order against young men prohibiting their marriage. It is said that, during the time of Valentine, Roman Empire's condition was declining very fast and faced acute crisis in all sectors. As the Roman Empire was very large, the management needed more and more to control the declining situation and thus, more and more recruitment of soldiers were done to stop invasion form the external forces.
Later, when Claudius became the emperor, he thought marriage as a great hindrance towards work as the married men were more inclined to their families and become weak. Responding to this, the emperor banned the marriage of soldiers from being married to enhance the quality of their work. But this decision came as a shock for the Roman people but could not gather courage to protest against the emperor. In the mean time, Bishop Valentine realised the injustice of the law and planned to move against the royal law. This brought a hope for the lovers who had a desire of marrying as they started visiting Saint Valentine, who conducted their marriage secretly. But, soon this secret was revealed before the emperor and the saint was arrested.
During the time of Saint Valentine's imprisonment, he was contacted by his jailor named 'Asterius', who approached him for his blind daughter. Asterius heard that Saint Valentine has some divine and miraculous powers and he requested him to restore the sight of his daughter with his powers. The Catholic version of the story believes that, Valentine did this miracle with his strong faith; however this belief has been contradicted by the Protestant version. But, both the version agree with the fact is Valentine succeeded in restoring jailors daughter sight.
It is also said that, Claudius II later meeting valentine was quite impressed with him. The emperor also tried to convert the bishop into Roman but Valentine reluctantly disagreed to which the emperor gave the order of execution of Valentine.
IIn between, both Valentine and Asterius' daughter developed a strong bond of friendship between them. Valentine's execution order came out with a great shock for jailor's daughter and it is said that before Valentine was to be executed, he asked for a pen and paper and left a goodbye message for Asterius' daughter in form of a phrase "From Your Valentine", which became an iconic phrase since then. However, as per another story it is also said that valentine fell in love with jailer's daughter during his imprisonment. Later, Valentine is believed to have been executed on February 14, 270 AD. This is why; it is believed that Valentine's Day is celebrated on February 14 every year.